Great news here!! Coin operated walking animal rides are popular rides for kids entertainment game centers or shopping malls.Recently,we have developed 4 new animal rides. With Cute design and colorful plush,you can only get these battery zippy animal rides from our company.
Now we totally have more than 40 models children animal riders,like unicorn, peppa pig, dog, lion,panda, monkey,horse,tiger, bull,bird, dinosaur,zebra,etc.You can choose any of the animal rides.We have large amount animal kiddy rides plush cover in stock,so the delivery time for electronic ride on animals is very fast,only 3~10 days.
For moving ride on animal toy,it is small investment,but large profits.Nowdays,animal rides are more and more popular in the world market. Usually our clients can get investment back in 15 days. Most of them give us re orders in 3 weeks after running business.
Hope you can also join in this business.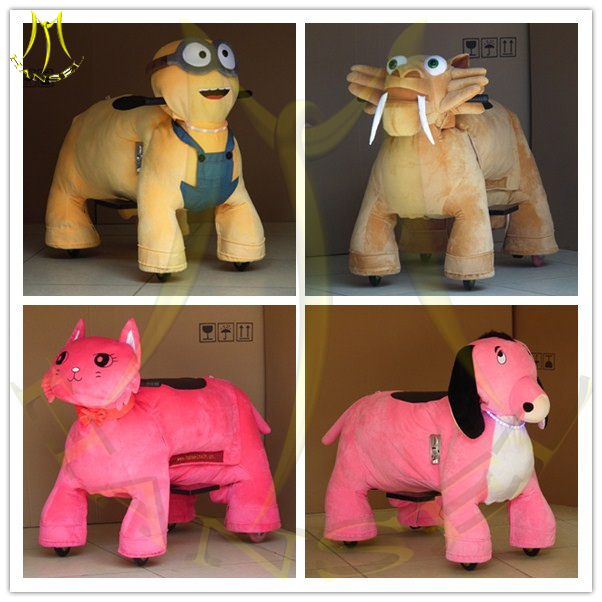 Hansel company manufacturer those electronic riding animals, known as Motorized animals since 2008. Plush motorized animal are also called walking animal bike ,battery animal car, ride on animal toys,4 wheels bikes, happy rides, mountable animals,plush toy on animal, animals electric toys, children play electric operated coin toys, electric toy cars for kids, toy rider coin animal , toys animal electric, stuffed animals that walk, motorized plush animals, zippy toy rides on animal, kids ride ,kiddy ride machine, battery operated toys ,animal walking toys, battery operated ride animals and so on. There are different animal designs with cool music which are attractive for players 1-101 years. They are goods investment for shopping malls, super-market ,parties, events,game centers, amusement park and play ground,etc.