Hansel battery operated ride animals electronic game machine for kids
Price:
US$0.00/Piece
|
Get Latest Price
Product Detail
Welcome to visit Hansel website for Plush animal electric scooters
Plush animal electric scooters are motorized toys with vivid cartoon animal coverings. Children and adults can ride on their favorite toys to walk around a space. it's like the kids car but more funny with Music, LED lights. They are operated on coins. which is very easy to control and manipulate. They will play music while moving around making them perfect for all types of events and parties. You just need to push of a button on the hand bar and the plush animals will move at walking speed, making them easy to keep up with. No need to worry about the bearing ability, each animal is able to support a weight of up to 200 pounds, so you can take a ride with your kids if you'd like.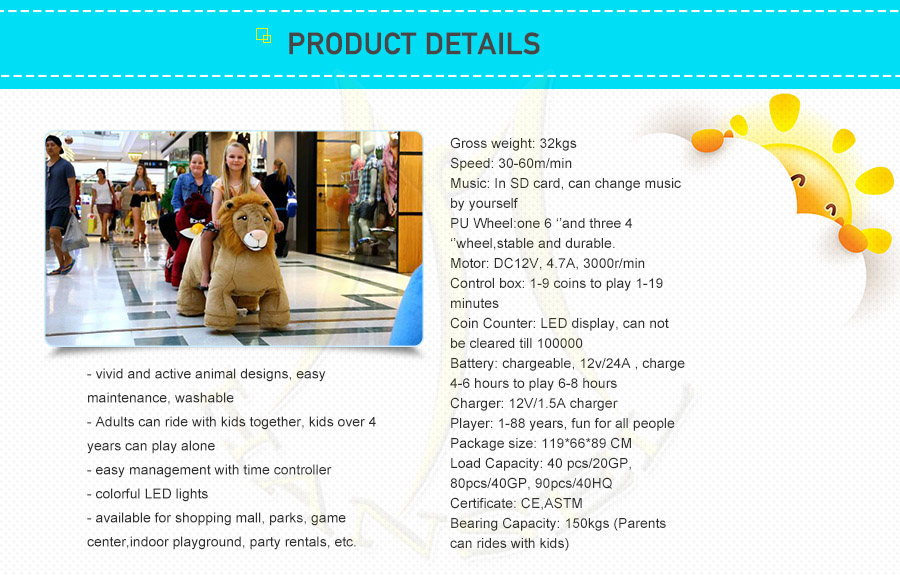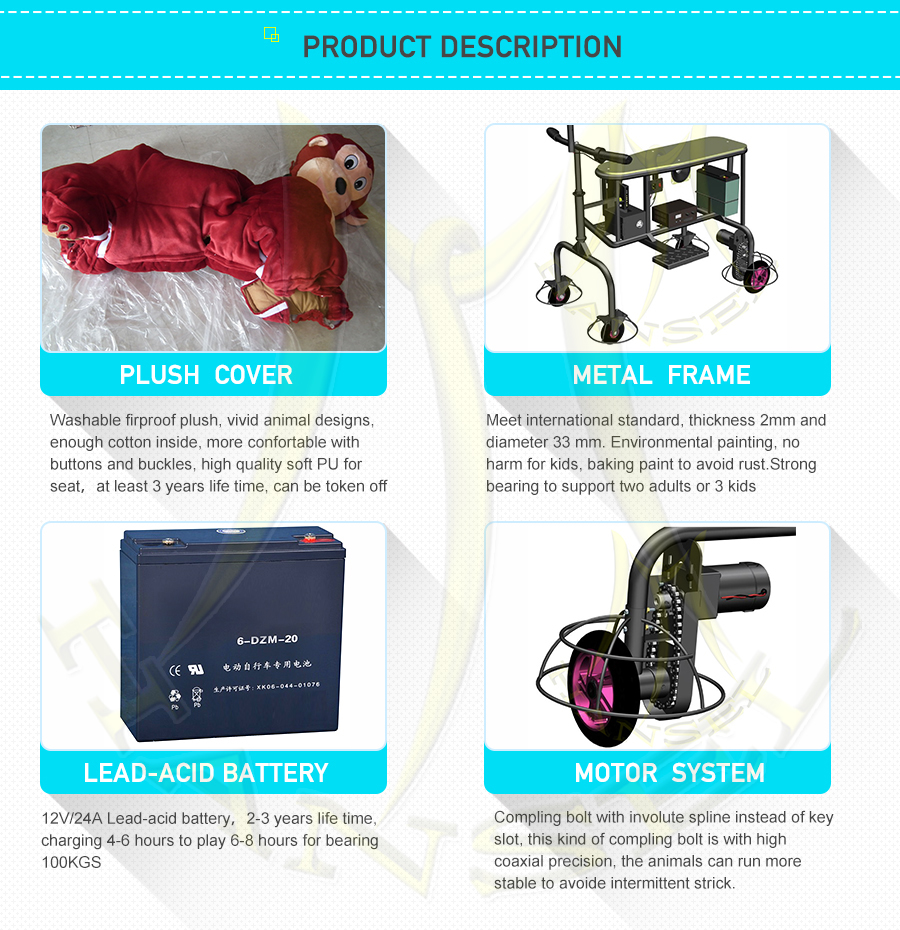 Plush Animal Electric Scooters are also called motorized animal scooters, animal scooters in mall, electric animal scooters, electric animal ride, stuffed animal ride electric, electric animal, animal electric car, plush animal electric scooter, plush electrical animal toy car, animal toy rides, animal electric rides, rides on animals, happy rides on animals, plush motorized riding animals, plush motorized animals, coin operated rides on animals, stuffed rides on animals, plush toy rides, plush electric animal scooters, 4 wheels animal bikes, electric animal battery car, battery operated ride animals, zippy toy rides, etc.
Take a ride on one of our unique giant electronic Motrized Animals. Our oversize stuffed animal allows you to ride and steering at safe speed, so your children would enjoy the ride.
Hansel plush animal electric scooters have been sent to over 70 different countries like The US, Australia, France, Italy, Canada, Brazil, Chile, Peru, Paraguay, Uruguay, Colombia, Turkmenistan, Malaysia, Indonesia, Vietnam, etc.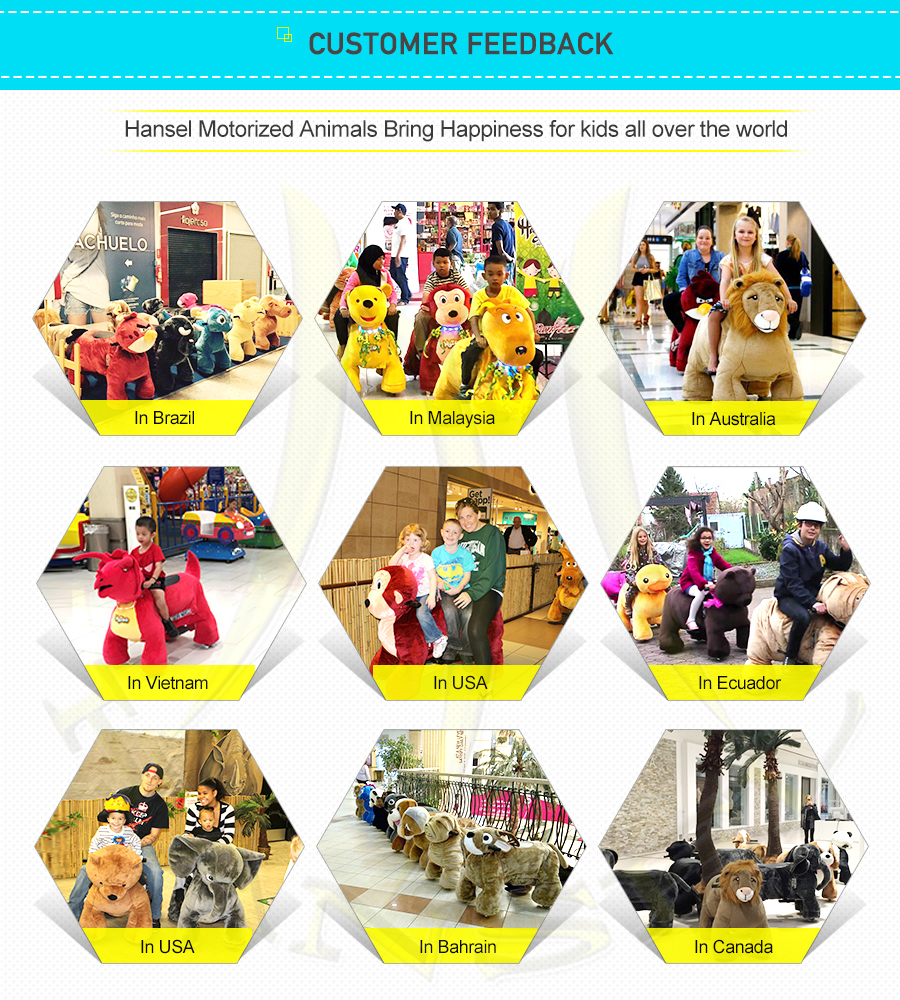 Please learn more for Hansel Plush Animal Electric Scooters
1. What is Hansel plush animal electric scooters?
Animal scooters are adventurers who ride our safe, padded motorized versions of different kinds of animals. They operate easily by pushing a green button and move at walking speed. They are goods investment for shopping malls, super-market ,parties, events,game centers, amusement park and play ground,etc.
2. Why should i purchase Hansel plush animal electric scooters?
A. Animal scooter are very popular among the world market, all people in different ages like playing them. It could help them to enhance family and friendship and bring a happy childhood for kids.
B. Simple and easy investment could bring you fast and high profits. Usually the European and American clients can get money back within 10 days.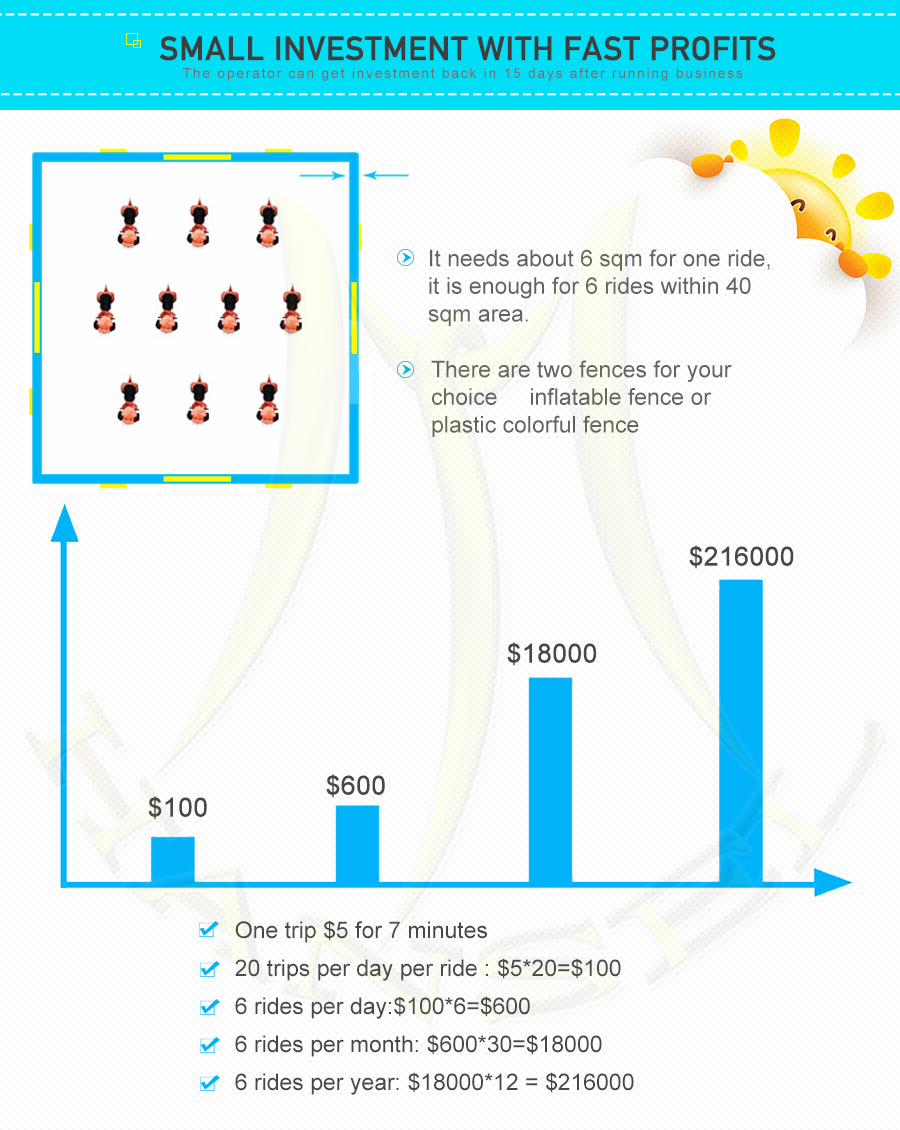 3. Advantages of Hansel plush animal electric scooters:
A. Simple and easy investment, fast and high profits.
B. Safety is the first consideration. Green painting of tube, fireproof plush and fine texture
C. With CE and ASTM certificate. With MSDS report for battery
D. Fast delivery, large storage, 3 to 5 days for order within 20 pieces
E.Free spare parts for maintenance, 24 hours on line service
F.10 years business experience in doing motorized animal business, more professional support
4. Models of Hansel plush animal electric scooters
There are 40 different animal designs for your choice. More lovery models will be release for the demand of market.
5. System of plush animal electric scooters
Coin operated system :
Insert the coin, the music will start. Press button, the animal go, release button, stop.
Time and coins: 1-9 coins to play 1-19 minutes.
Place: run business in shopping mall, game centers, playground, amusement parks.
No coin operated system:
No time controller. Only need to control the left hand bar button.
When press the button, it will go. When release the button, it will stop.
It is good for rental business like parties, events, show, advertising, shopping centers, etc.
Welcome to contact us for the videos of animal scooters to know more about two differnt systems.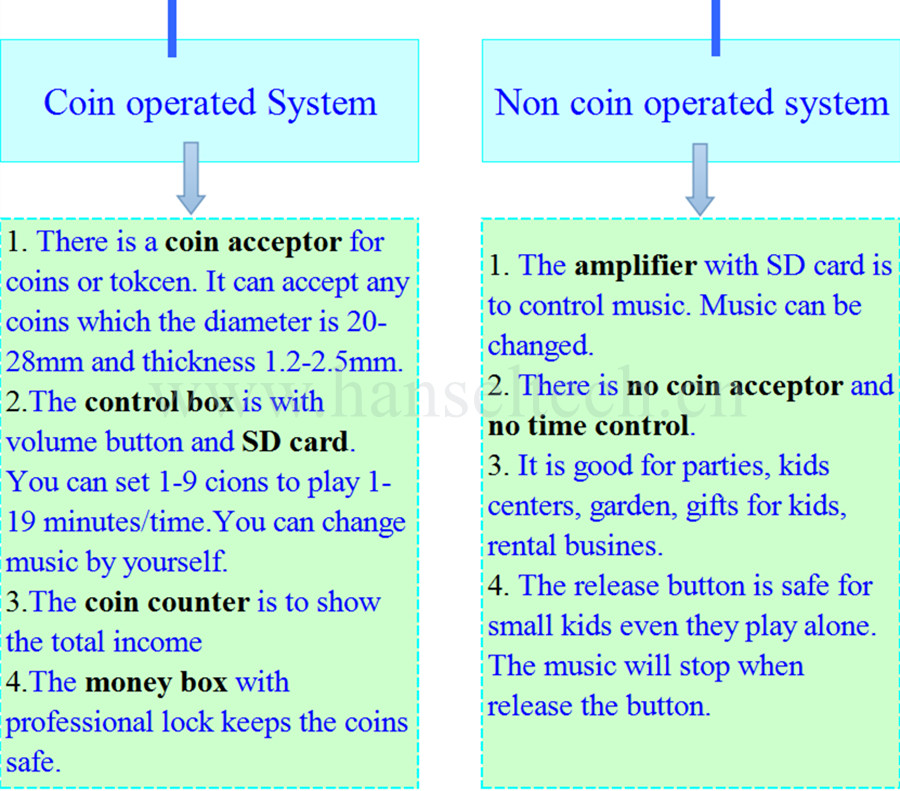 6. Feedback from clients about Hansel animal electric scooters
Hansel plush motorize animals have enjoyed good reputation all over the world. Usually the clients can give reorders within 15 days after running business.
7. what kinds coins or tokens need for coin operated plush animal electric scooters?
We use CPU coin acceptor for animal scooters. It can accept any coins/tokens which the diameter is 18-30mm and thickness 1.2-2.5mm.
8. Do you sell plastic fence also?
Definitely we also sell the plastic fence if clients need. Usually our clients buy some plastic fence for coin operated animals.
9. Which kind of music for plush animal electric scooters?
There are English songs in an SD card for battery motorized animals. You can also change the music by yourself.
10.How old the kidsd could be a rider for those electric animals?
Most children ages 3 and above can maneuver and steer the animals without help. Younger children would need extra supervision from an older child or adult.
11.Where to run plush animal electric scooters business?
---Perfect to put in shopping mall, game center or playground, indoor outdoor park, family entertainment center, amusement area, plaza
---Rent for holiday parties, Birthday parties, meeting, advertising, Special events, Fun fair and Festivals, Schools fun day, Summer Camps
---Resale and wholesale or Present for your children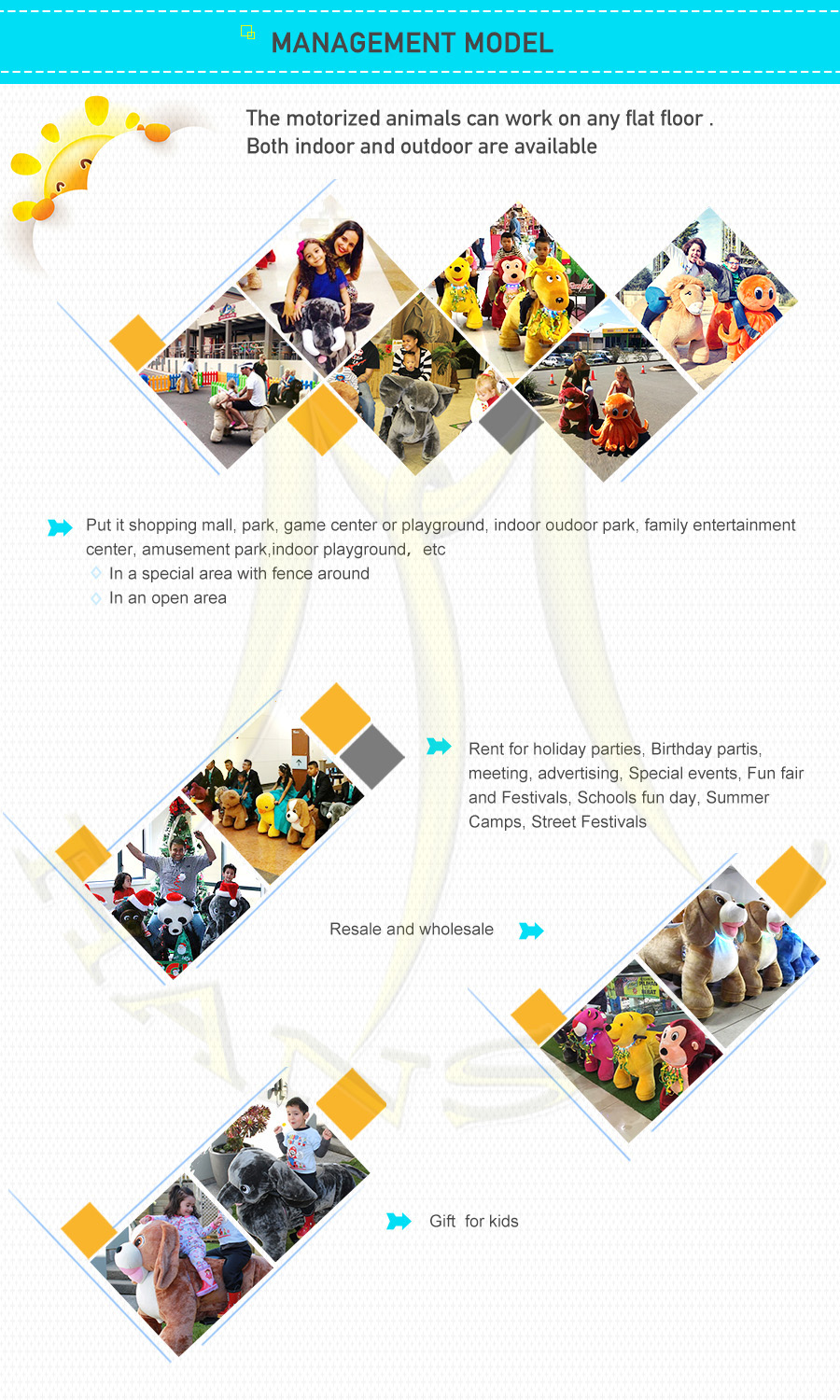 Why should i choose Hansel plush animal electric scooters
Original designer and manufacturer outlet- strong support with professional technicans
Top quality, various design- meet international standard, professionally reinforced on joint part
Large quantity stock- 500 set metail frame over 200 pieces skin in stock
Fast delivery- 3-5 days for order within 20 pcs, 7-10 days for order over 50 pcs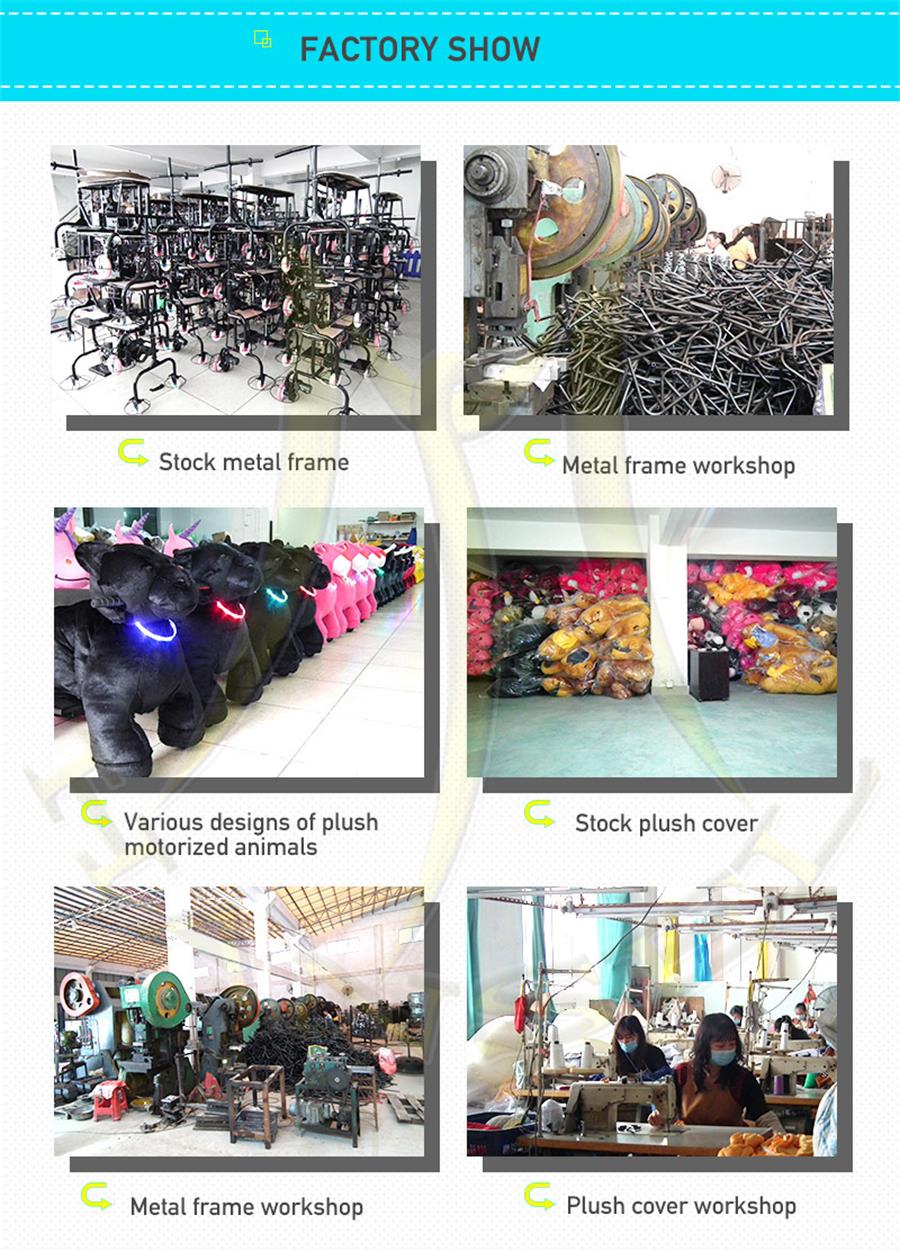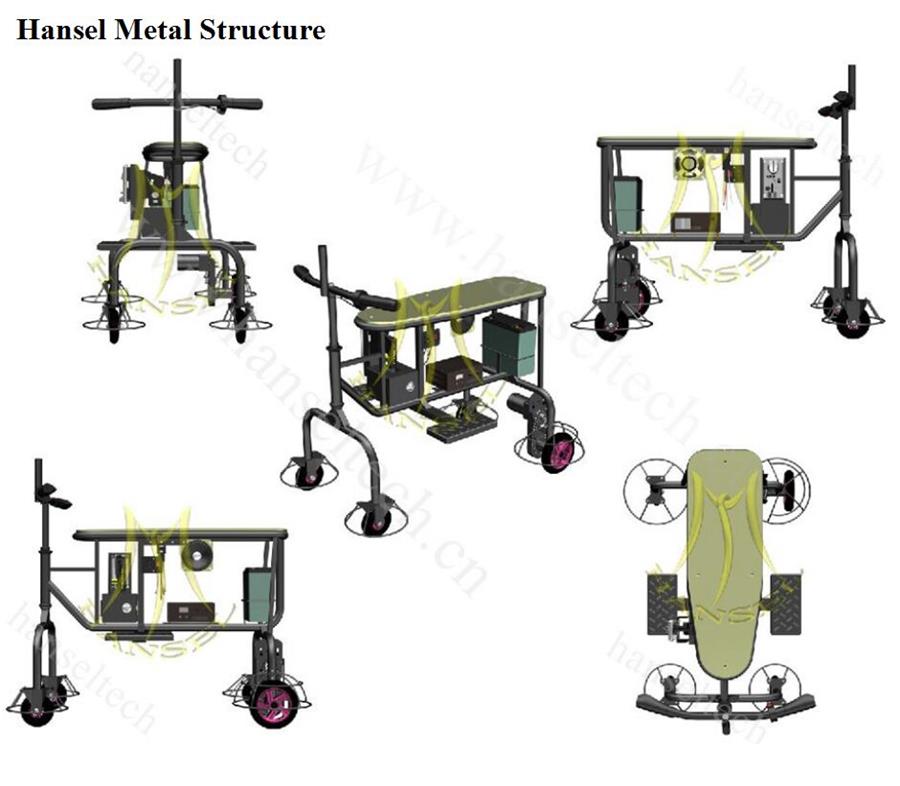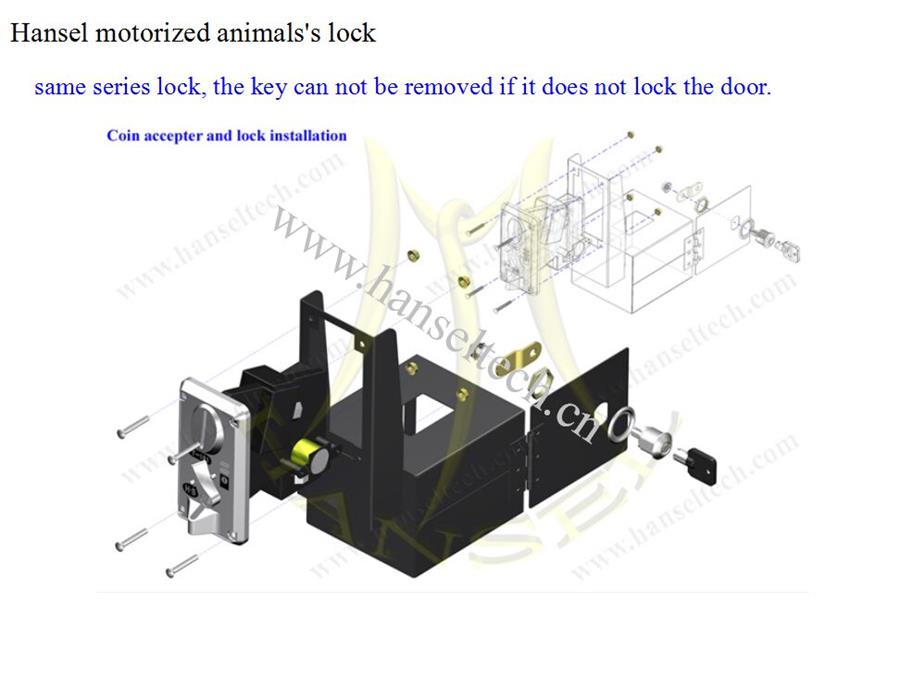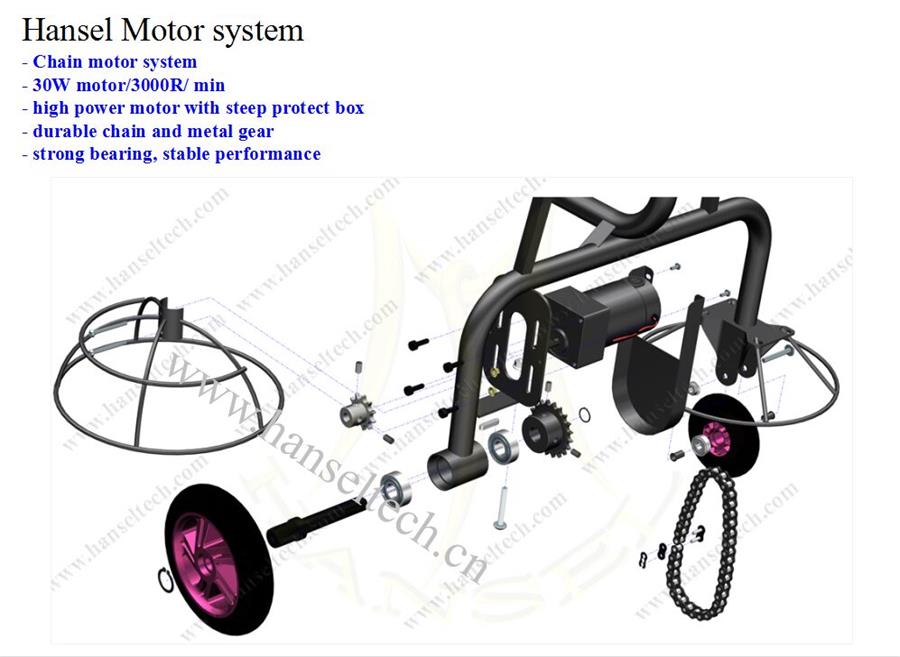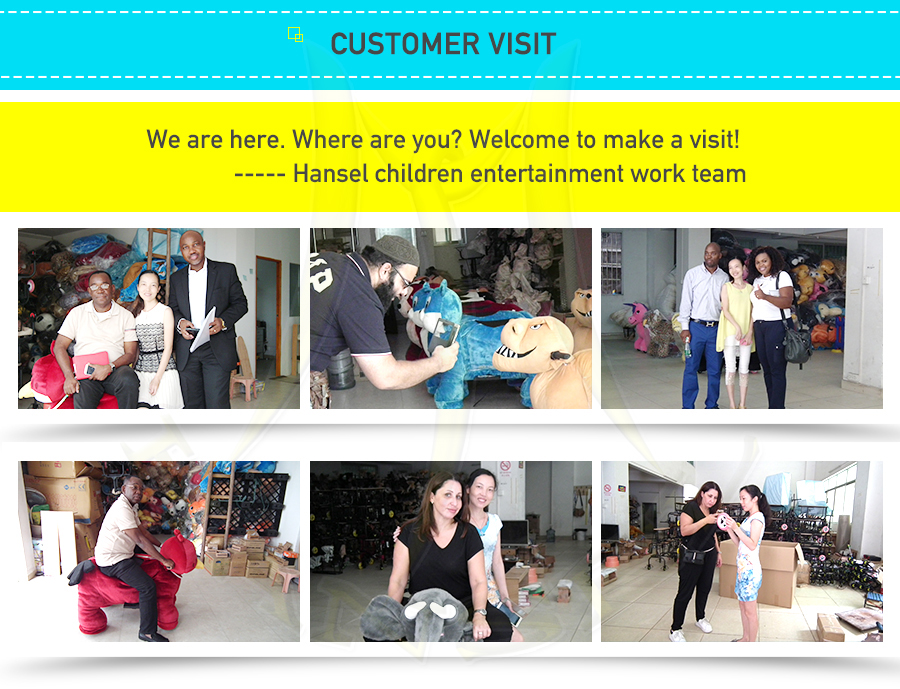 Suggestion on daily maintain the plush animal electric scooters