Hansel high quality coin operated rides outdoor amusement park coin operated chilren toy games
Price:
US$808.00/Piece
|
Get Latest Price
Product Detail
Hansel new products Factory fiber glass battery operated motorcycle amusement rides kids play machine rideshigh quality coin operated rides outdoor amusement park coin operated chilren toy games
Hansel's products cover from plush motorized animal, kids indoor playground, fiber glass coin op rides, kids coin operated games.Those items are flexible for FEC, amusement parks, shopping malls, hotel,parties, rental, etc. Hansel's kids amusement games gain fast and durable profits for the customers and enjoy a high reputation all over the world.
Speed Motor bike is one of our new amusement ride. It looks cool with luxury designs. It is easy to control which are suitable for both kids and adults. It is suitable for shopping mall, outdoor parks, streets, parties, events, etc.
- The left hand is for brake, right handle for honking.
- There are lights on both side- shining during night
- Length 1.3M with two seats for family play
- With Radar to avoide collision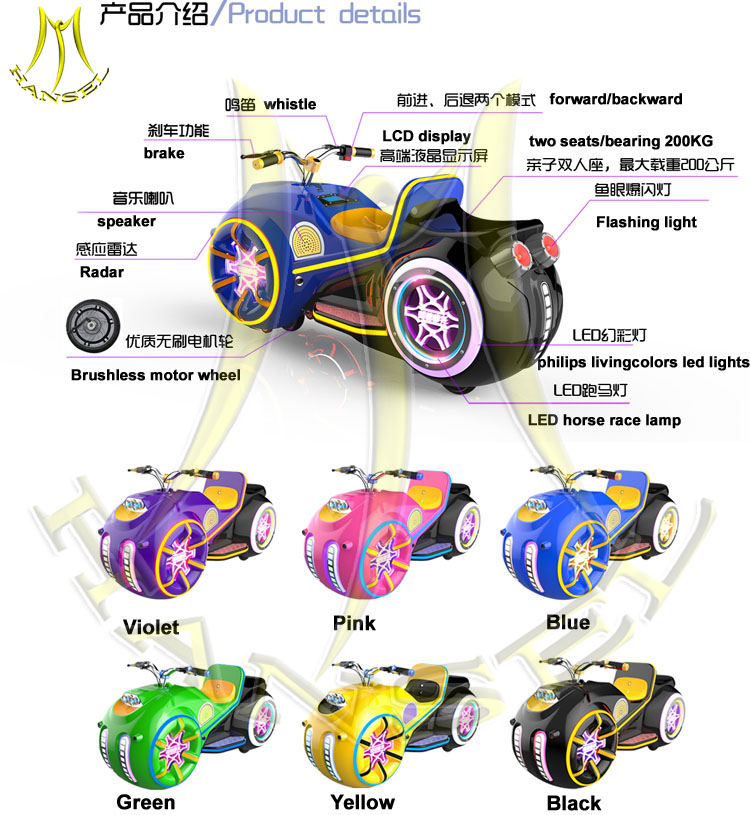 Advantages:
- Remote control -free and easy to control the speed motorbike
- Streamlined body shape, arc seat, stainless steel wheels with shining light
- Dynamic sound effect, greatly enhance the entertainment atmosphere, TF card for music
- Colorful lights to create the business atmosphere and become the star in night.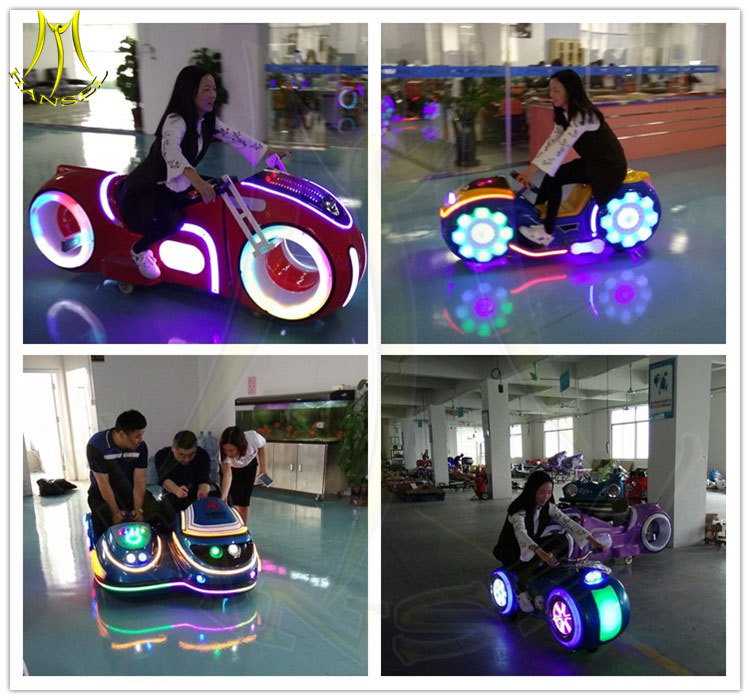 Hansel Main Products:
Coin operated fiber glass rides:kiddie rides ,Carousel rides, mini train, revolving elevator, helicopters, bumper cars, track trains,etc. Hansel company can supply over 100 different models of children rides which can meet most of our clients demands.The most popular designs are cars, motors, some animal designs, trains,etc. They are suitable for store, game center, amusement park, shopping center, game center, etc.We have successfully installed bumper cars area for our clients in different countries such as Iraq, Armenia, Pakistan, etc.
Animal scooter rides: Hansel company can offer over 40 different Animal scooter rides for mall.These animal plush rides are popular in the world market and are very attractive for kids in shopping centers, amusement parks, indoor playground, events, parties,etc. The main markets are European and South American countries such as USA, Spain, France, Russian Federation, Chile, Venezuela, Netherlands, etc.
Soft playground: You never know what you are going to find at Hansel indoor playground as we are constantly on the search for new and exciting playground equipment. However, one thing that we can guarantee is our indoor play facility for kids is always going to feature some of the equipment that kids seem to enjoy most, including Slides,Ball pits,Climbing structures,Inflatable structures,Child-sized jungle gym,etc.
Inflatable products: inflatable castle, inflatable slide, bouncing castle, etc. There are both small size and large size. The small size castle are good for home use in the back garden. The large size castle,slide can be put in game center, amusement park, etc.
Coin operated game machines : such as racing machines, shooting machines, gift machines, redemption machines, basketball machines, dancing machines, air hockey,etc.