Hansel hot selling plush amusement ride panda kids coin operated zippy motorized rides
Price:
US$370.00/Piece
|
Get Latest Price
Product Detail
Hansel hot selling plush amusement ride panda kids coin operated zippy motorized rides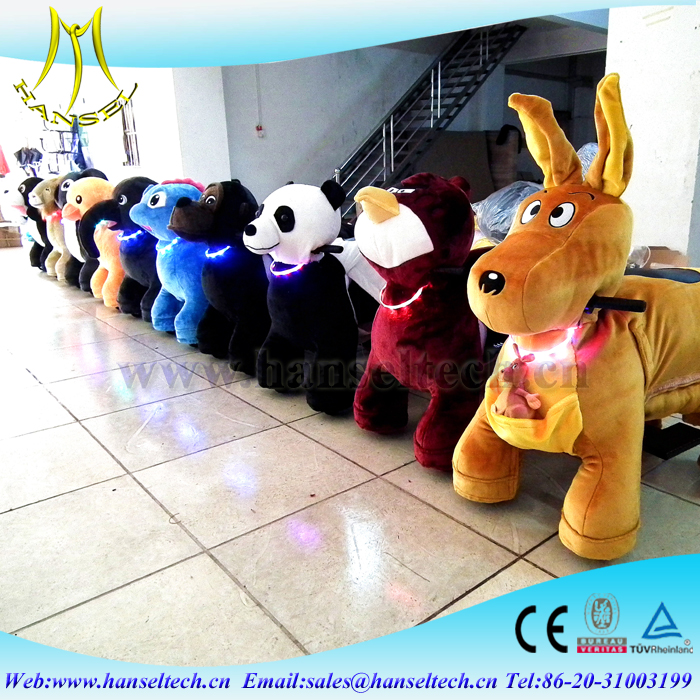 Hansel company manufacturer those electronic riding animals, known as Motorized animals. These portable amusement rides, which are battery operated, are sure to be a hit with your little children. With an array of musical genres to choose from while riding, as well as forty different animals to choose from–Hansel Motorized Animals a perfect opportunity to foster your child's sense of individuality in a safe and structured environment. Still a little skittish of turning the reins over to the little ones? No worries, each animal is able to withstand a weight of up to 200 pounds, so you can take a ride with them if you'd like.
Plush animal electric scooters are also called motorized plush animals, animal scooters, electric animal ride,
plush animal electric scooter, animal ride for mall, animal mechanical toys, walking animal rides, stuffed animal ride,
animal rider, coin operated animal ride, zoo animal scooter,riding animal costume, walking animal ride on toy
electrical toy animal riding, battery operated animal ride, safari animal ride, plush electrical animal toy car, kids animal rides, electrical animal toy car, animal scooters in mall, electric animal scooter, stuffed animals that walk, zippy toy rides on animal, kids ride, kiddy ride machine, battery operated toys ,animal walking toys, battery operated ride animals and so on. There are different animal designs with cool music which are attractive for players 1-101 years.
Please Check the details below: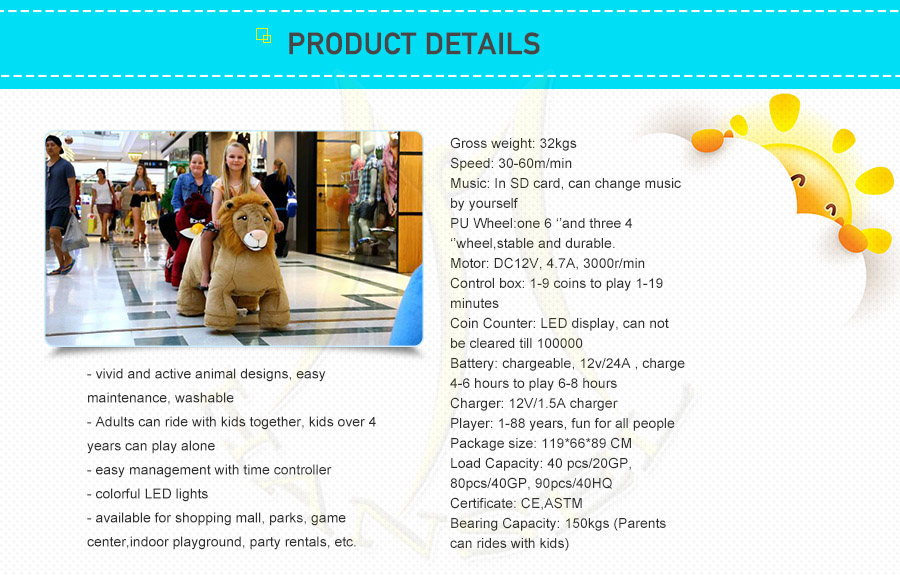 Normal questions you may ask, for more, pls contact us freely:
1. What are Hansel plush motorized animal ?
Plush motorized animals are motorized scooters with adorable animal coverings. They allow children and adults to ride around on their favorite animals. They are operated on tokens making them easy to control and manipulate. They look like adorable animals, but move like electric motor bike. They even play music while moving making them perfect for all types of events and parties.They operate easily by the push of a button and move at walking speed making them easy to keep up with.
Plush motorized animal are also called walking animal bike ,battery animal car, ride on animal toys,4 wheels bikes, happy rides on animals, mountable animals,plush toy on animal, animals electric toys, children play electric operated coin toys, electric toy cars for kids, toy rider coin animal , toys animal electric, stuffed animals that walk, motorized plush animals, zippy toy rides on animal, kids ride ,kiddy ride machine, battery operated toys ,animal walking toys, battery operated ride animals ,plush animal scooters, electric animals scooters in mall , mall rides on animals and so on. There are different animal designs with cool music which are attractive for players 1-101 years. They are goods investment for shopping malls, super-market ,parties, events,game centers, amusement park and play ground,etc.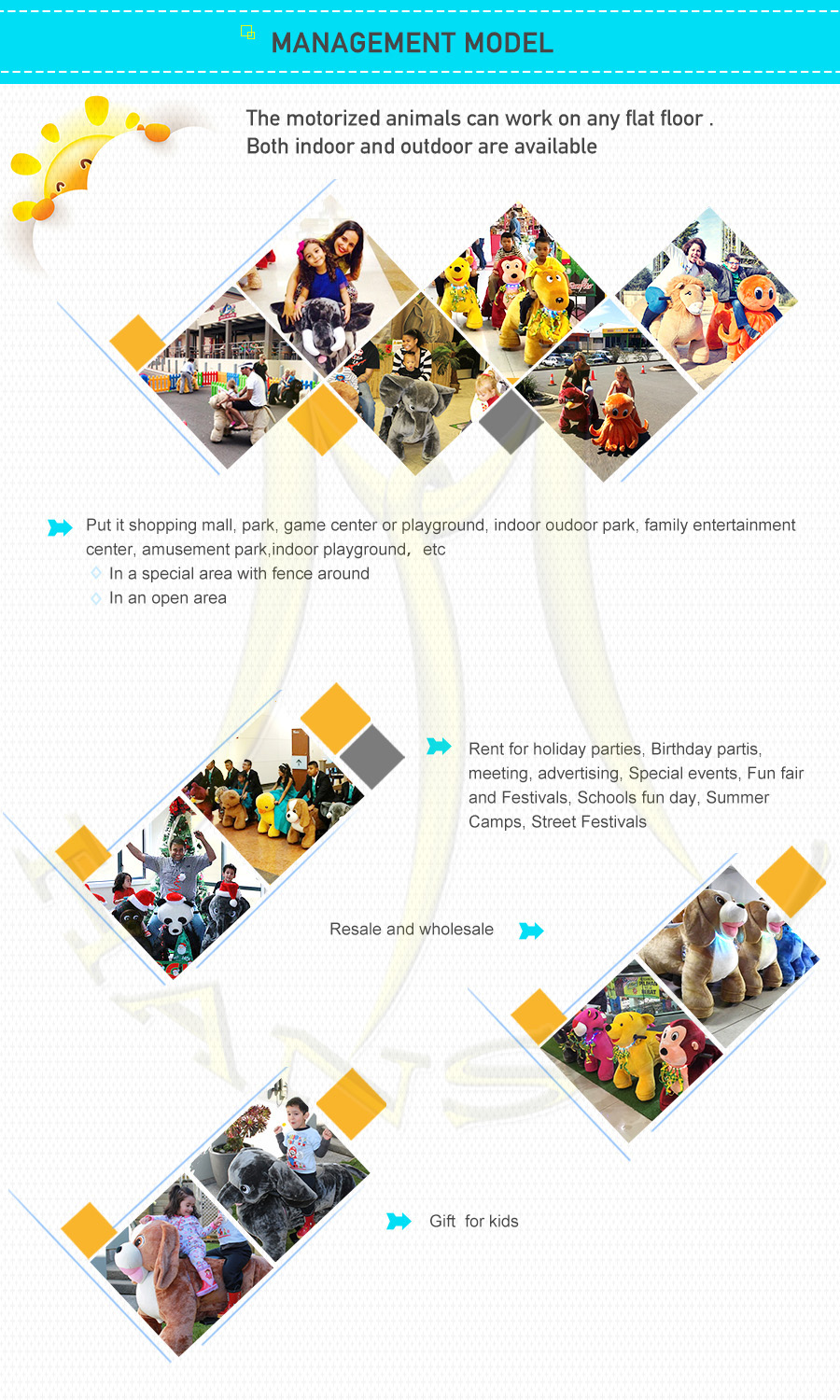 2. Why should I purchase a motorized animal?
Motorized animals are an easy investment that can produce a profit for your business. They are becoming more and more popular among people of all ages. They are already a huge hit in shopping malls, but they have the potential to be so much bigger. Motorized animals are also the perfect way to diversify your inventory for businesses looking to sell new products. They are sure to take any event to the next level, whether it be a birthday, graduation or anything in between!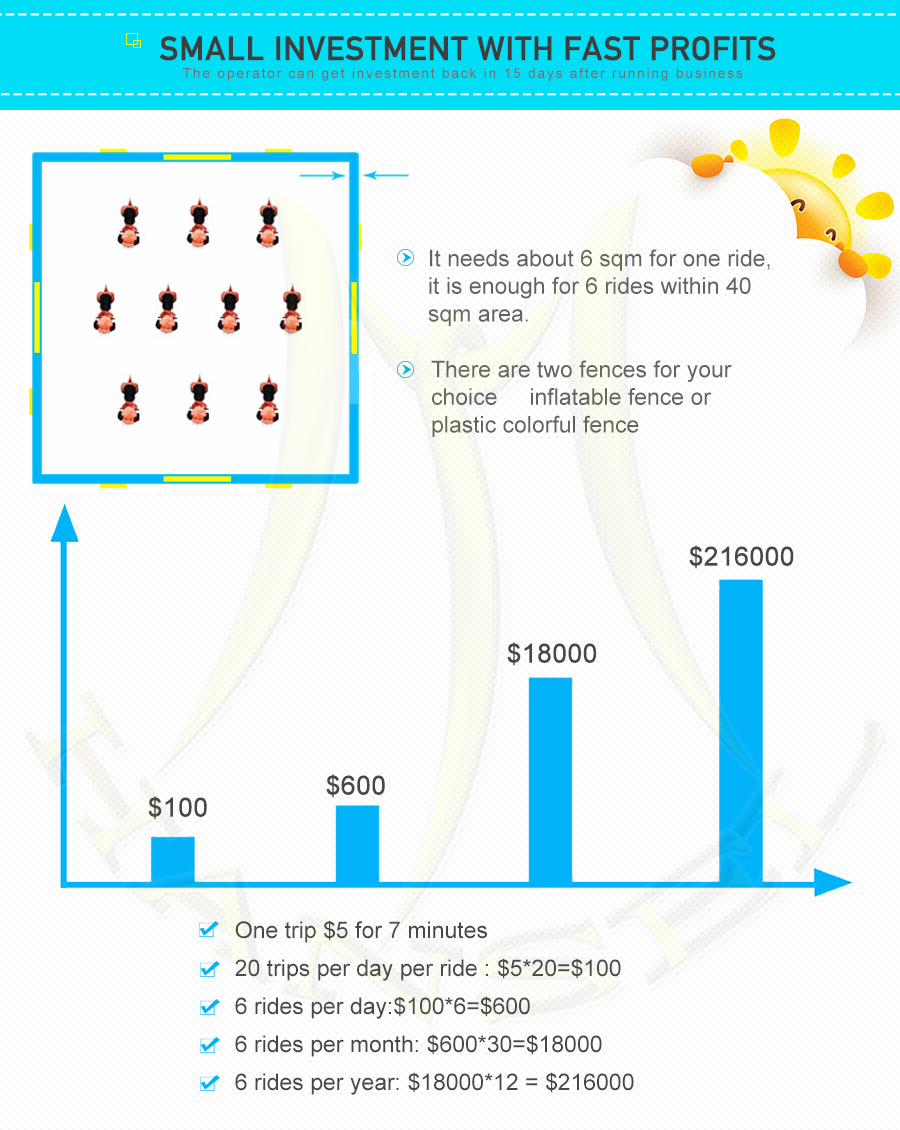 3. What is token-operated motorized animals?
In order to operate our token-operated motorized animals, you must insert a token to start the machine. This allows you to set the length of time per ride and the number of tokens required from 1-9 tokens for 1-19 minutes. Most customers find this method the easiest way control the use of their motorized animals choose coin system for events and parties with multiple people wanting to ride.
4. Do you have motorized animals without coin system?
We have two systems of our motorized animals.
Coin operated system : 1-9 coins to play 1-19 minutes. Normally 90% customers choose coin system, if they run run business in shopping mall, game centers, playground, amusement parks.
No coin operated system: control the movement with the left hand button. It is no time controller. When press the button, it will go. When release the button, it will stop. Some clients choose non-coin zoo ride to rent them to the parties or buy for their kids.It is good for rental business like parties, events, show, advertising, shopping centers, etc.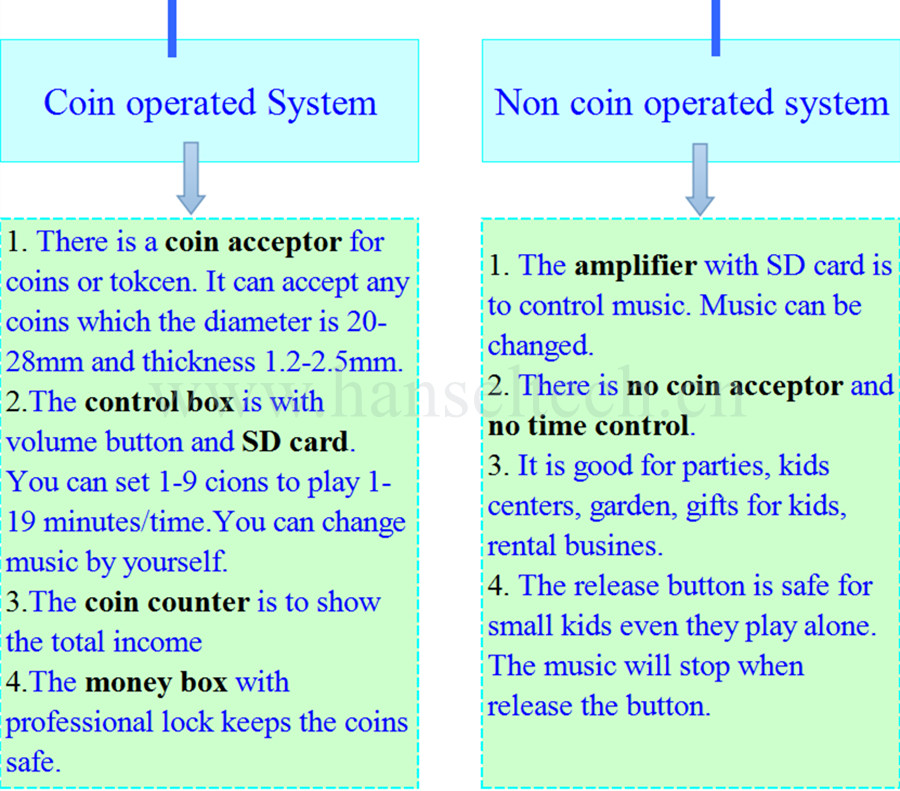 5. What kinds of tokens or coins are needed to operate the motorized animals?
The machine has an installed CPU coin acceptor. You can set a sample of any coin or token in the coin acceptor, and the machine will work when it identifies the same coins or tokens as the sample. This allows any business to personalize the machine to their own coins or token. As long as the diameter of the token or coin is 18mm~30mm, and the thickness is 1.5mm~3mm, you can use it. We will include fifty tokens with every motorized animal purchase for your convenience.

6. How long can you set a ride to be?
You can set one to nine coins to be worth one to nineteen minutes of riding time.


7. What type of battery does a motorized animal have?
The battery is 12V, 20A to 24A. When fully charged it can be used for six to eight hours, however, the battery is rechargeable.


8. What is the motorized animal's working voltage?
They can work at both 220V and 110V.
9. What is the maximum capacity for our motorized animals?
Our motorized animals can hold approximately 150KGS. This allows parents to be able to ride with young children.

10. On what types of surfaces the motorized animals will ride on?
The motorized animals will work best on flat surfaces such as indoor floors and pavement.
11.How old do you have to be to become a rider for those Animal?
Most children ages 3 and above can maneuver and steer the large size animals without help. Younger children would need extra supervision from an older child or ault. We can also offer small size motorized animals for children under 4 years.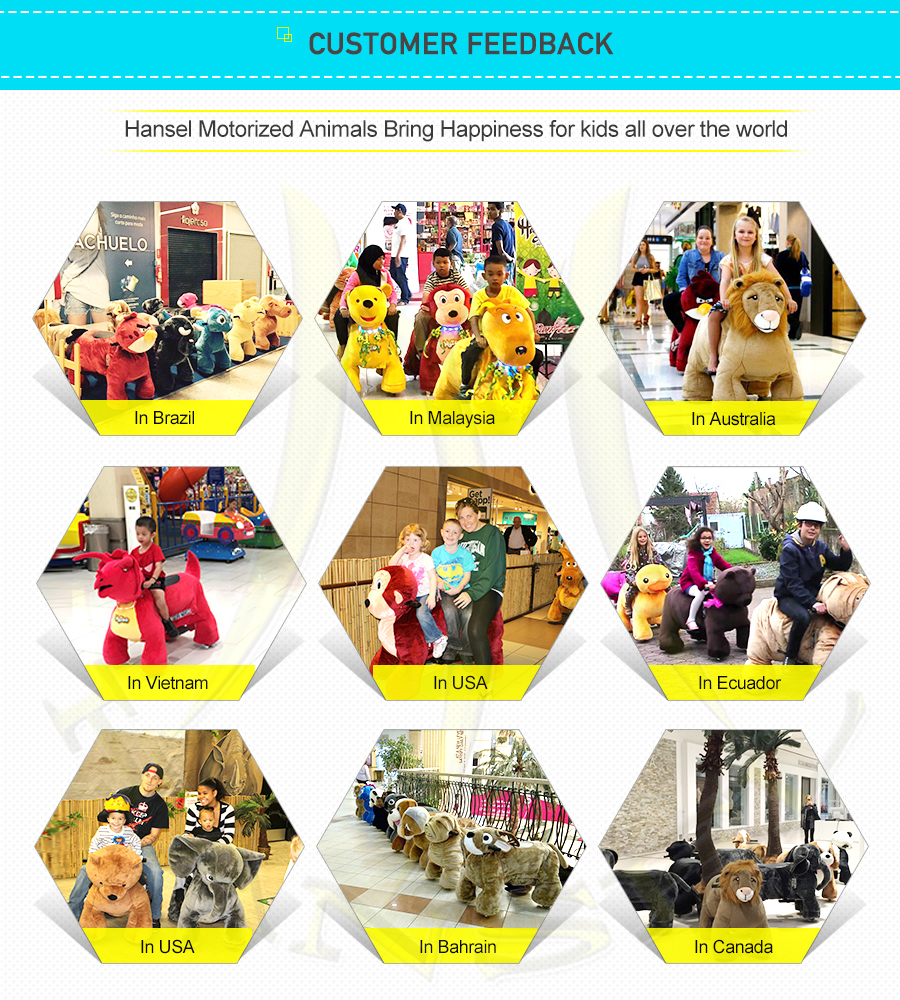 12. Advantages of Hansel plush motorized animals:
A. Safety is the first consideration for Hansel walking animals. Green painting of tube, fireproof plush and fine texture
B.Simple and easy investment, fast and high profits.
C. Free spare parts for maintainance, 24 hours on line service
D. Mainly doing motorized animal business for 10 years. Always give you more professional support.
E.With CE and ASTM certificate. With MSDS report for battery.