Hansel 2017 ride for kids plush stuffed electric battery operated ride animals on wheels
Price:
US$0.00/Piece
|
Get Latest Price
Product Detail
Hansel 2017 ride for kids plush stuffed electric battery operated ride animals on wheels
Welcome to visit Hansel website for plush motorized animal scooters. Hansel company manufacturer those electronic riding toy animals, known as Motorized animals since 2009. These portable amusement rides, which are battery operated, are sure to be a hit with your little children. With an array of musical genres to choose from while riding, as well as forty different animals to choose from–Hansel Motorized Animals a perfect opportunity to foster your child's sense of individuality in a safe and structured environment. Still a little skittish of turning the reins over to the little ones? No worries, each animal is able to withstand a weight of up to 200 pounds, so you can take a ride with them if you'd like.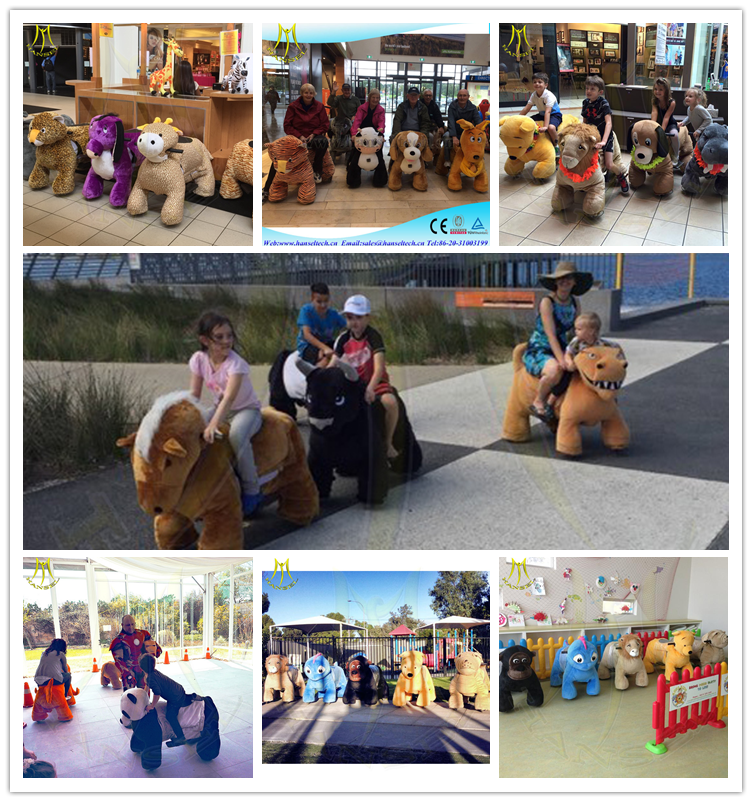 Please Check the details below:
Material

:

fireproof animal design plush cover,black paint steel tube frame

Gross weight:

32kgs

Beari

ng

Capacity:

at least 150kgs (Parents can rides with kids)

Music:

In SD card, can change by yourself

Motor Power:

DC12V, 50W, 4.7A, 3000r/min

Control box:

time ,coins , volume ,1-9 coins to play 1-19 minutes

Income Counter:

LED display, can not be cleared till 100000

Battery:

chargeable, 12v/24A , charge 4-6 hours to play 6-8 hours

Charger:

12V/1.5Acharger, one charger for one machine

Package size:

120*66*90 CM 20feet container 40 pcs, 40 feet container 80 pcs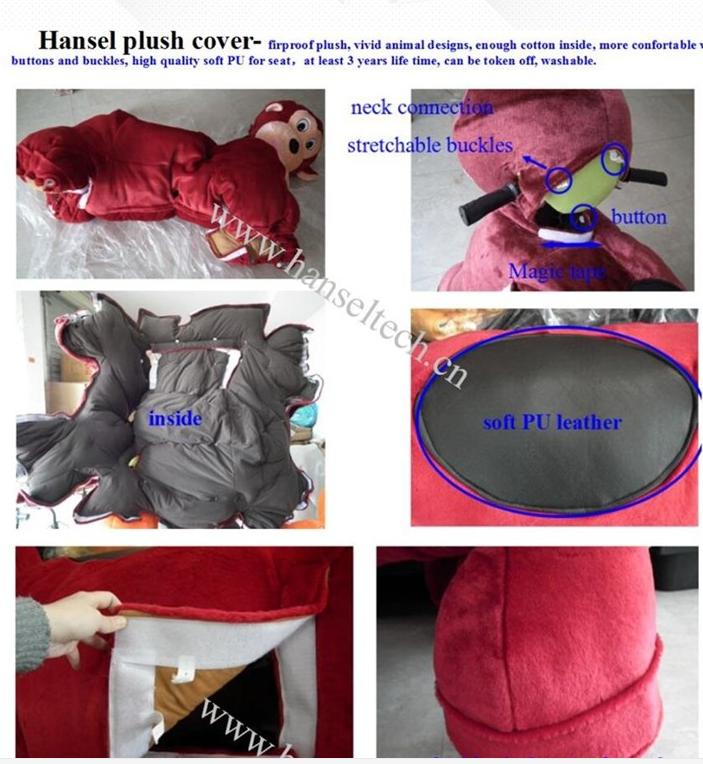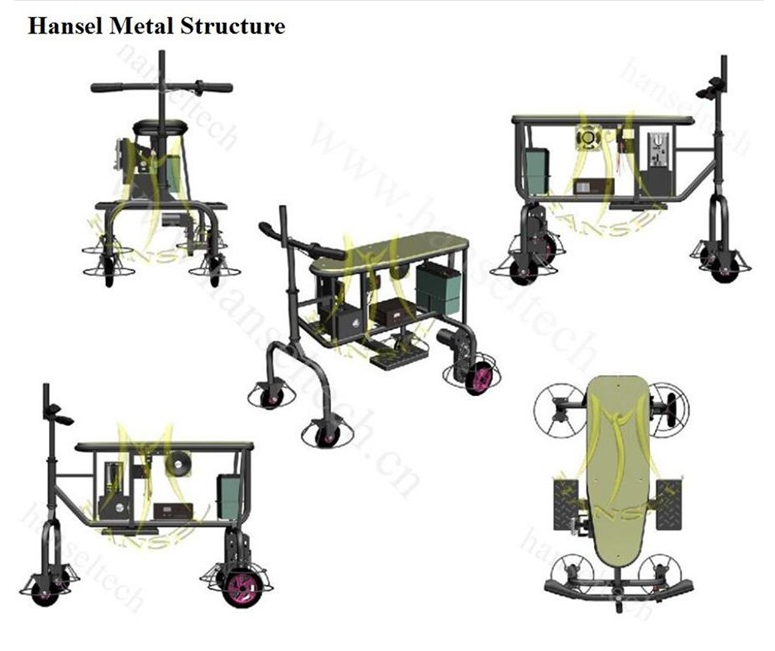 Why should I purchase a motorized animal?

Motorized animals are an easy investment that can produce a profit for your business. They are becoming more and more popular among people of all ages. They are already a huge hit in shopping malls, but they have the potential to be so much bigger. Motorized animals are also the perfect way to diversify your inventory for businesses looking to sell new products. They are sure to take any event to the next level, whether it be a birthday, graduation or anything in between!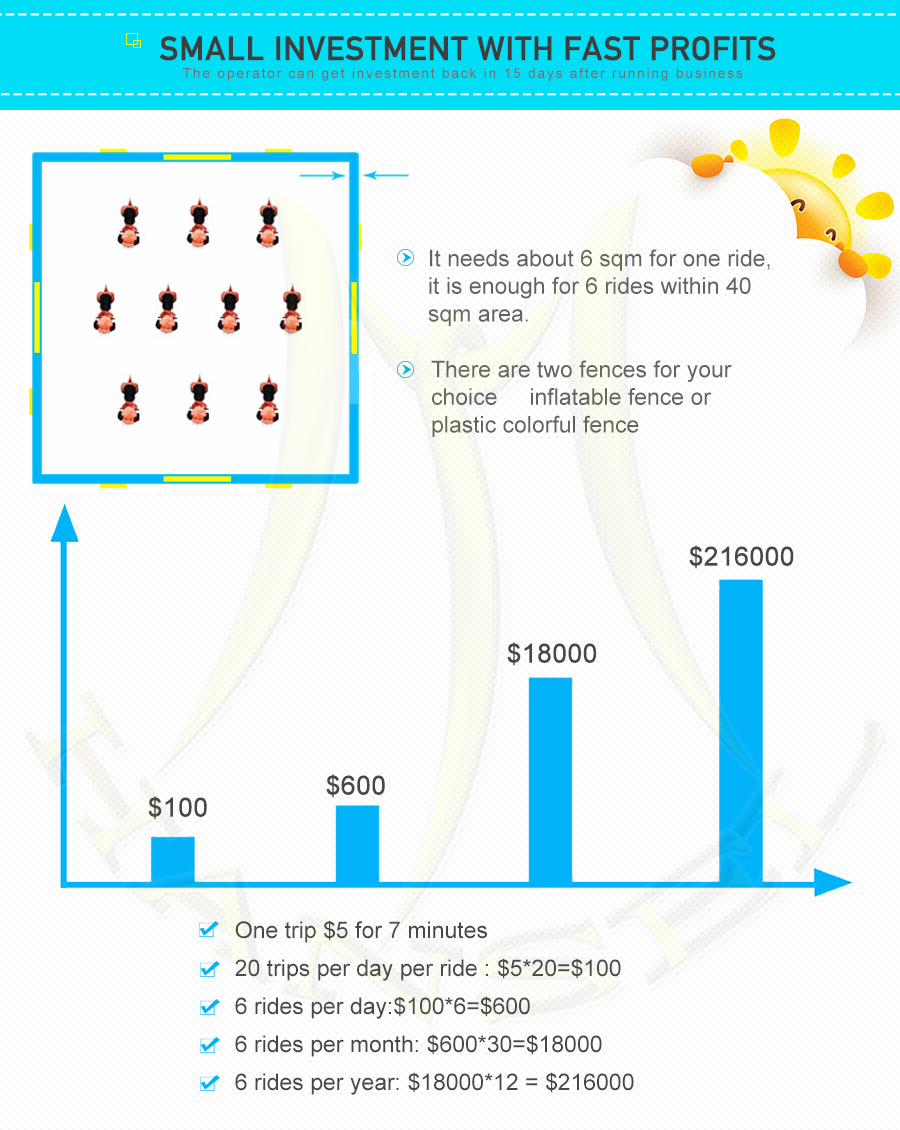 We have two systems of our motorized animals.
Coin operated system : 1-9 coins to play 1-19 minutes. Normally 90% customers choose coin system, if they run run business in shopping mall, game centers, playground, amusement parks.
No coin operated system: control the movement with the left hand button. It is no time controller. When press the button, it will go. When release the button, it will stop. Some clients choose non-coin zoo ride to rent them to the parties or buy for their kids.It is good for rental business like parties, events, show, advertising, shopping centers, etc.