Hansel plush riding motorized animals theme park equipment for sale
Price:
US$0.00/Piece
|
Get Latest Price
Product Detail
Hansel plush riding motorized animals theme park equipment for sale
Motorized animals are coin operated or time setting amusement rides that work with rechargeable batteries, can go forward and turn left and right with music. They are the current trend for child amusement. These electric motorized animals are mobile and allow children to ride the animal of their preference in parks, shopping centers, game centers, playgrounds and zoos at a safe and regulated speed of preference. Both children and adults may ride these animals at the same time. The delight in kids is absolutely guaranteed!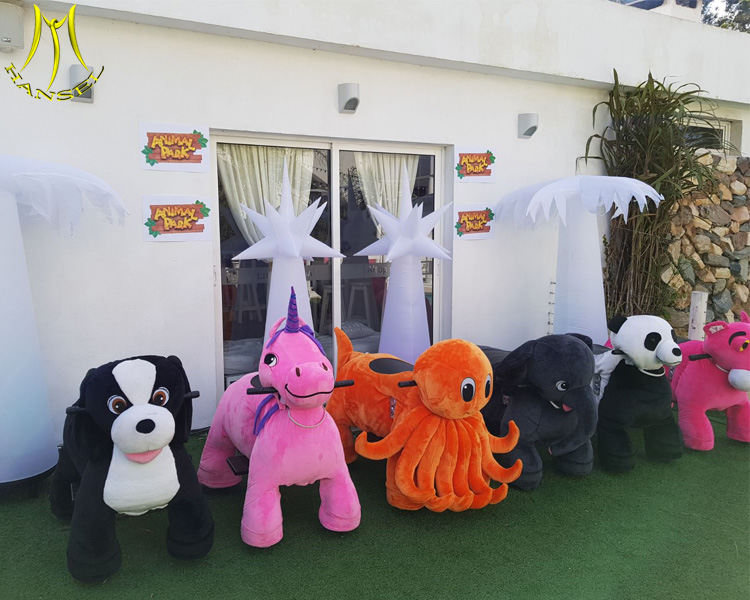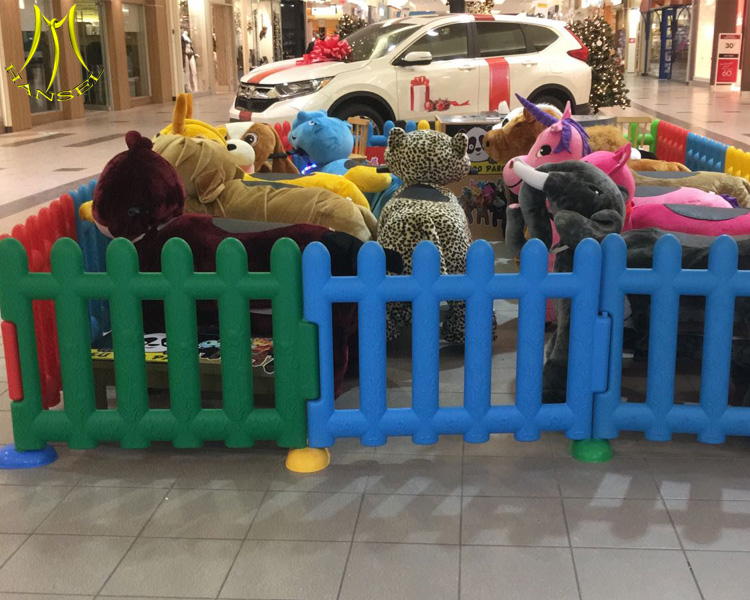 Hansel company manufacturer those electronic riding animals, known as Motorized animals. These portable amusement rides, which are battery operated, are sure to be a hit with your little children. With an array of musical genres to choose from while riding, as well as forty different animals to choose from–Hansel Motorized Animals a perfect opportunity to foster your child's sense of individuality in a safe and structured environment. Still a little skittish of turning the reins over to the little ones? No worries, each animal is able to withstand a weight of up to 200 pounds, so you can take a ride with them if you'd like.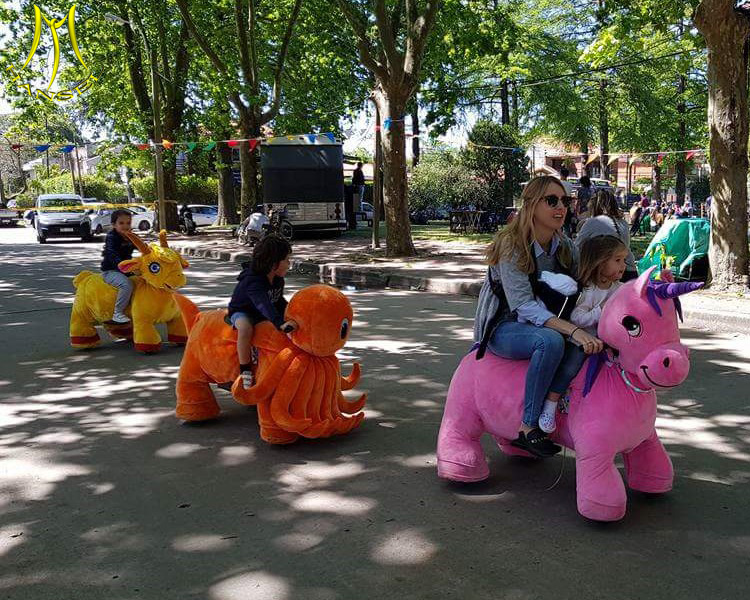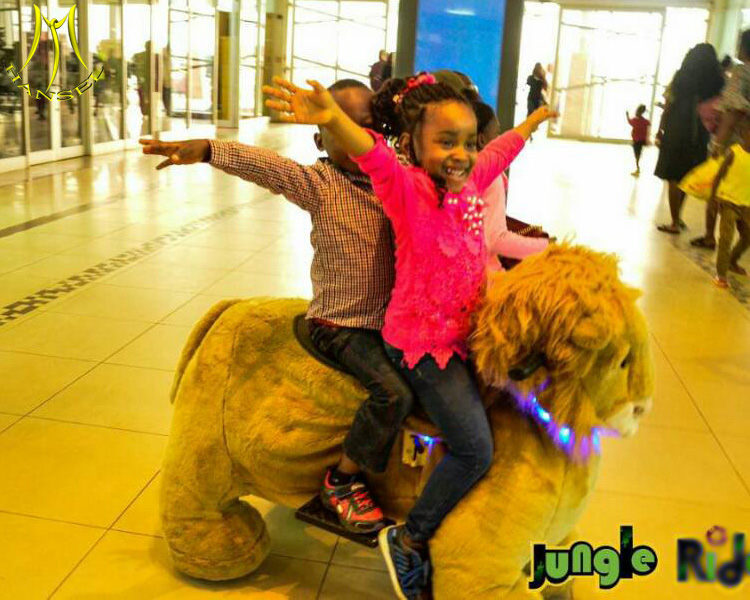 Products details of plush motorized riding animals
1.We use washable fireproof plush cover,enough cotton inside,more comfortable with buttons and buckles ,high quality soft PU for sea .At least 3 years lift time .can be token off .
2. 12/24V lead-acid battery,2-3years lift time. Charging time 4-6 hours to play 6-8 hours.
3.The material of our animal scooters are black paint steel tube frame (external diameter: 33mm,thickness:2mm .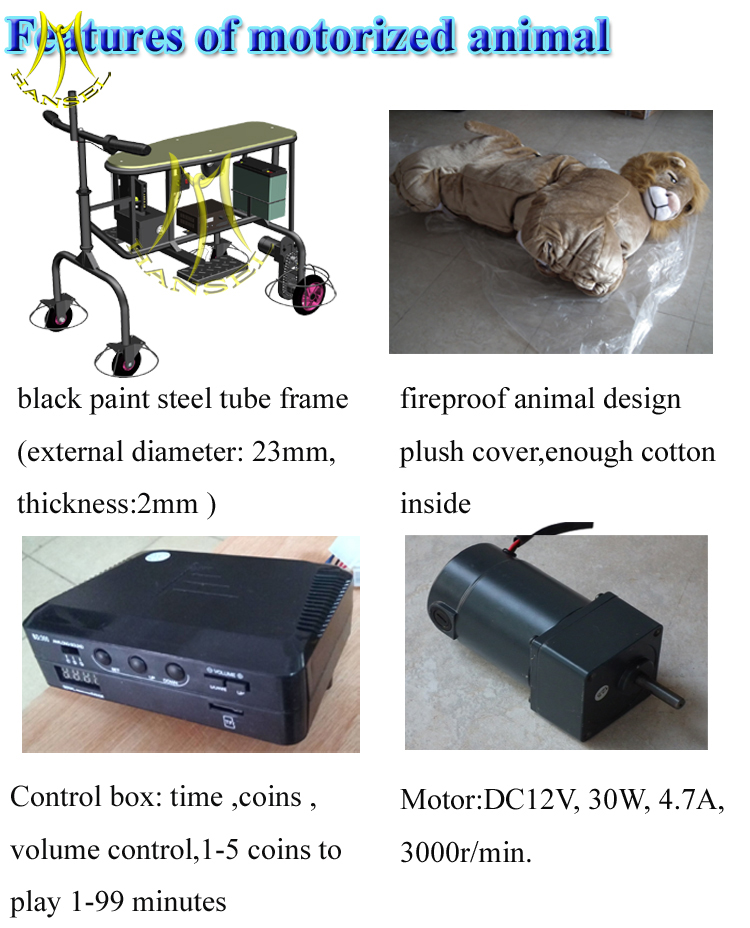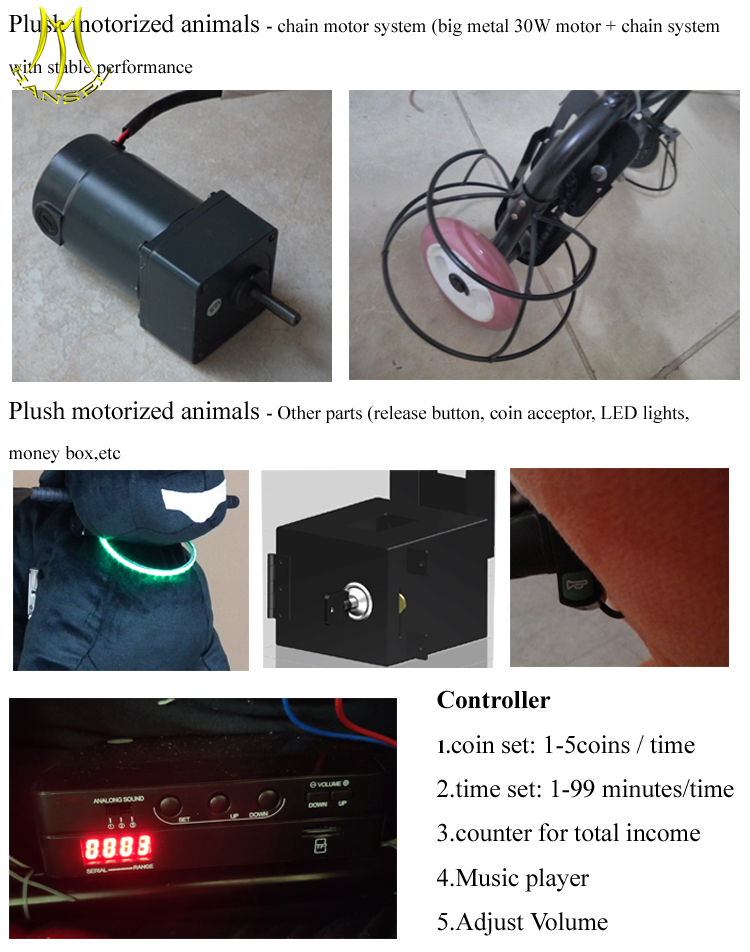 Please check the details of motorized animals
Material : steel frame ,fireproof plush animal cover
Gross weight :32kg
Battery: chargeable, 12v/20A , usually it charges 4-6 hours to play 6-8 hours
Charger: 12V/1.5A , one charger for one machine
Diameter range of token : 18-30mm.
Thickness range of token : 1.2-2. 5mm.
Control box: time ,coins , volume ,music control and 1-5 coins to play 1-99 minutes .
Speed: 30-60m/min (the speed is related to the ground and weight of players. The more smooth of the ground, the faster of the rides. )
Bearing Capacity : 150kgs (one adult can ride with one kid )
Player: 1-88 years, fun for all people.
Available place: family yard, park, shopping mall ,supermarket, indoor playground, game center, parties, events,rent for business , etc
Certificate: CE,ASTM
Main market : They are most popular in European and South American countries such as USA, , Colombia,Russian Federation, Spain, France, UK,Chile, Venezuela, Netherlands, etc.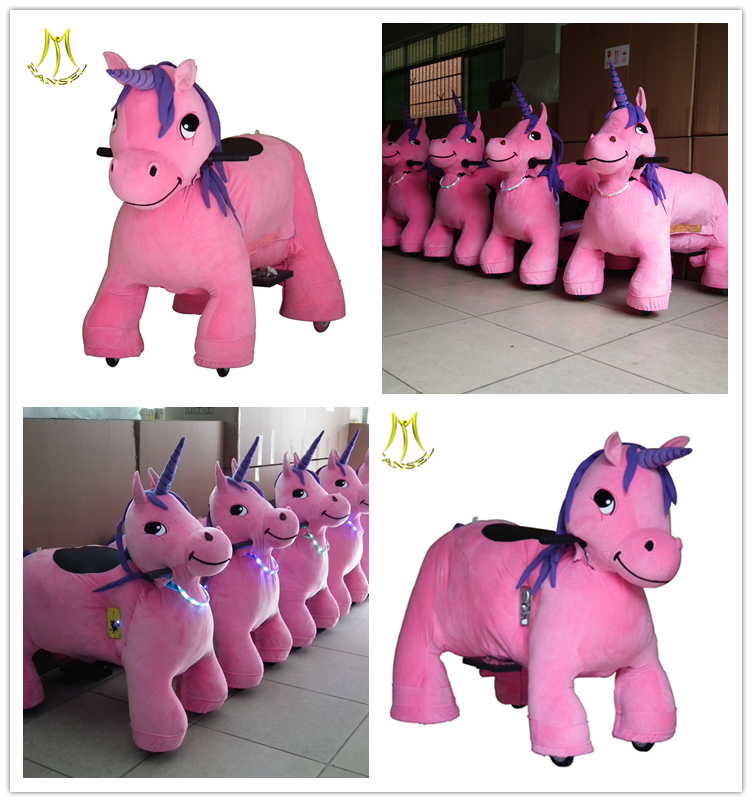 1. What is Hansel plush motorized animals?
Motorized animals are adventurers who ride our safe, padded motorized versions of different kinds of animals. They operate easily by the push of a button and move at walking speed making them easy to keep up with.
Plush motorized animal are also called walking animal bike ,battery animal car, ride on animal toys,4 wheels bikes, happy rides, mountable animals,plush toy on animal, animals electric toys, children play electric operated coin toys, electric toy cars for kids, toy rider coin animal , toys animal electric, stuffed animals that walk, motorized plush animals, zippy toy rides on animal, kids ride ,kiddy ride machine, battery operated toys ,animal walking toys, battery operated ride animals and so on. There are different animal designs with cool music which are attractive for players 1-101 years. They are goods investment for shopping malls, super-market ,parties, events,game centers, amusement park and play ground,etc.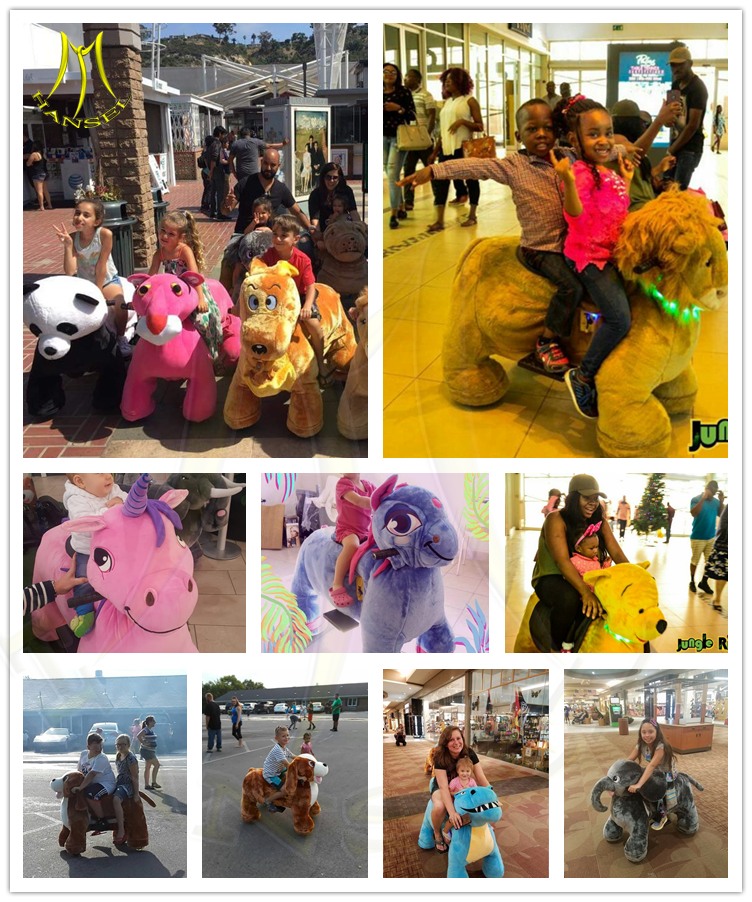 2. Reason to purchase Hansel plush motorized animals?
A. Plush motorized animal are very popular among the world market, all people in different ages like playing them. It could help them to enhance family and friendship and bring a happy childhood for kids.
B. Simple and easy investment could bring you fast and high profits. Usually the European and American clients can get money back within 10 days.
3. Advantages of Hansel plush motorized animals:
A. Safety is the first consideration for Hansel walking animals. Green painting of tube, fireproof plush and fine texture, soft, not wool, not ball, don't rub off
B.Simple and easy investment, fast and high profits.
C. Free spare parts for maintainance, 24 hours on line service
D. Sales and technicians have been doing motorized animal business for 8 years.So we can always give you more professional support.
E.With CE and ASTM certificate
4. Models of Hansel plush motorized animals
There are 50different animal designs for your choice. More animal models will be available for the demand of market.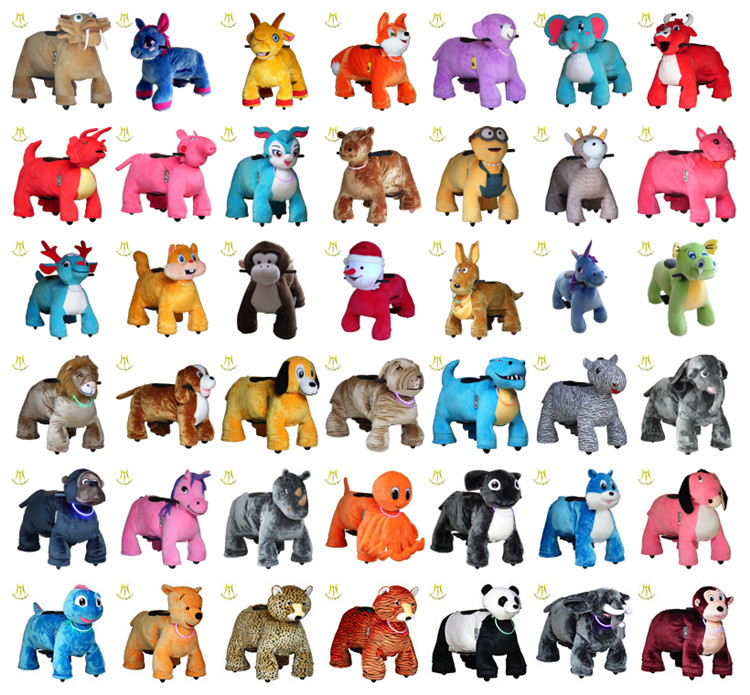 5. System of plush motorized animals
Coin operated system : 1-5 coins to play 1-99 minutes. Normally 90% customers choose coin system, if they run run business in shopping mall, game centers, playground, amusement parks.
No coin operated system: control the movement with the left hand button. It is no time controller. When press the button, it will go. When release the button, it will stop. Some clients choose non-coin zoo ride to rent them to the parties or buy for their kids.It is good for rental business like parties, events, show, advertising, shopping centers, etc.
6. Feedback from clients about Hansel plush motorized animals
Hansel plush motorize animals have enjoyed good reputation all over the world. Usually the clients can give reorders within 15 days after running business.
7. what kinds coins or tokens need for coin operated plush motorized animals?
We use CPU coin acceptor for motorized animals. It can accept any coins/tokens which the diameter is 18-30mm and thickness 1.2-2.5mm.
8. Do you sell spare parts also?
Definitely we also sell spare parts separately. Usually our clients buy some basic spare parts in stock. In that case, they can do maintain by themselves.
9. Which kind of music for Motorized animals?
There are English music in SD car for battery motorized animals. You can also change the music by yourself.
10.How old do you have to be to become a rider for those Animal?
Most children ages 3 and above can maneuver and steer the animals without help. Younger children would need extra supervision from an older child or ault.

Hansel stock of plush ride on animal toy animal robot sales
We are factory of plush animals scooters . Over 50 different animal designs suitable for any ages. They are very hot-selling in the market now such as: Unicorn, Horse, Lion, Dog, African Elephant,king lion,Squirrel,octopus, Rhino,Elephant, Panda, Monkey, Tiger , Bull, Cat, Rabbit and fox ,etc.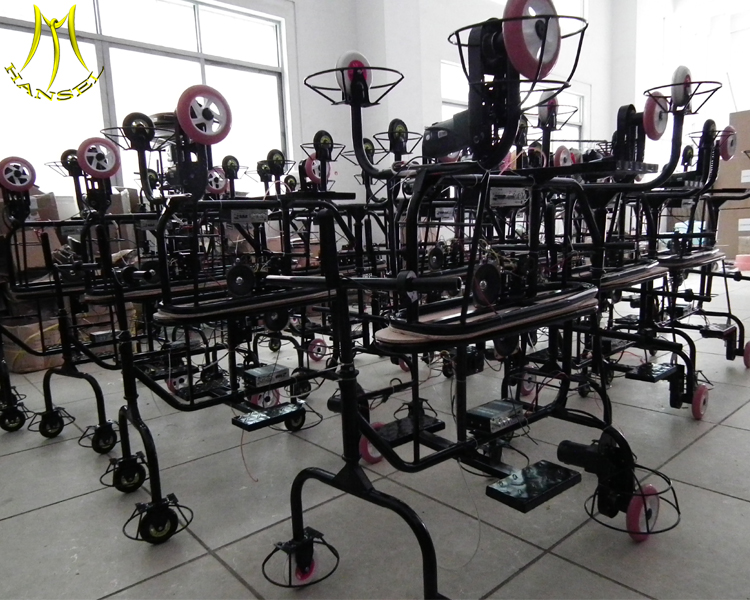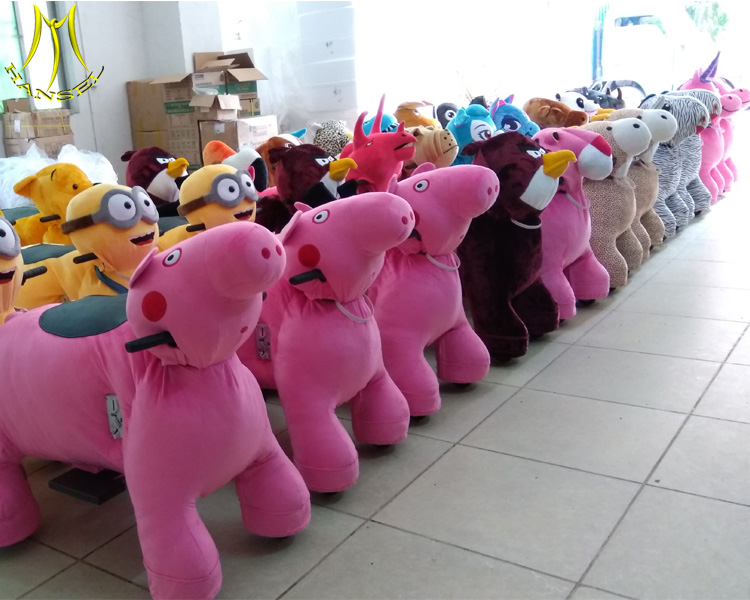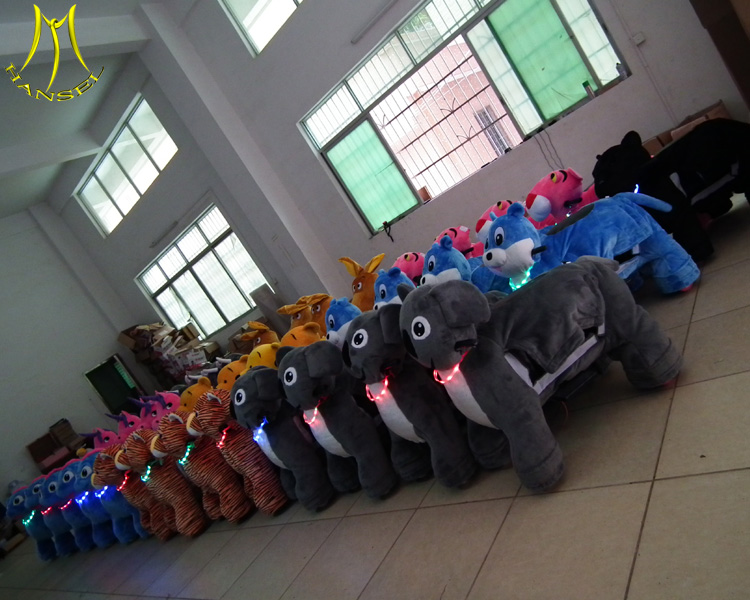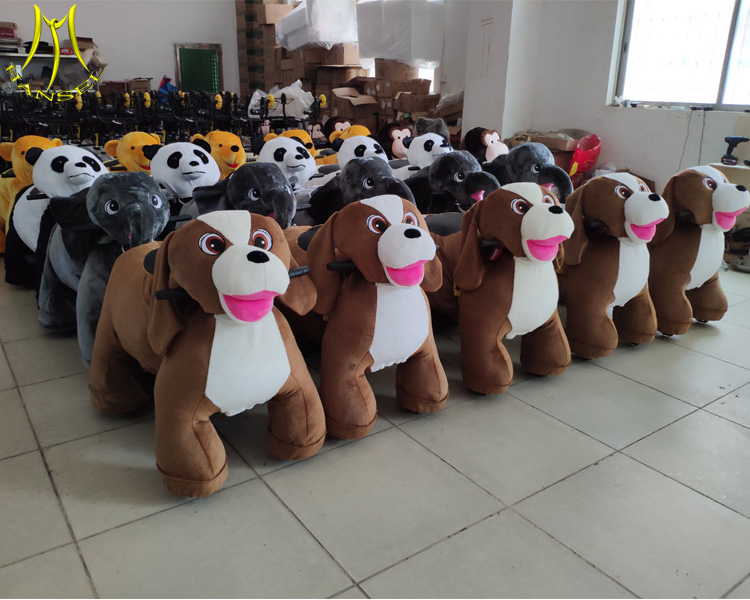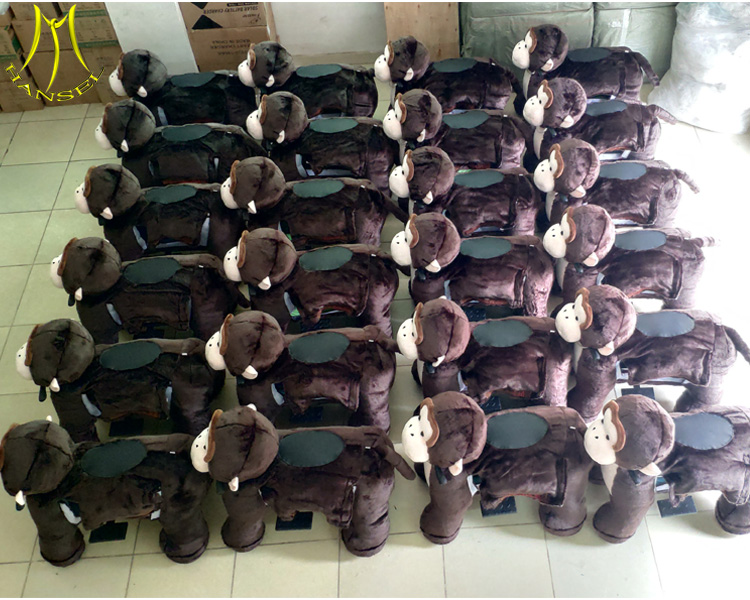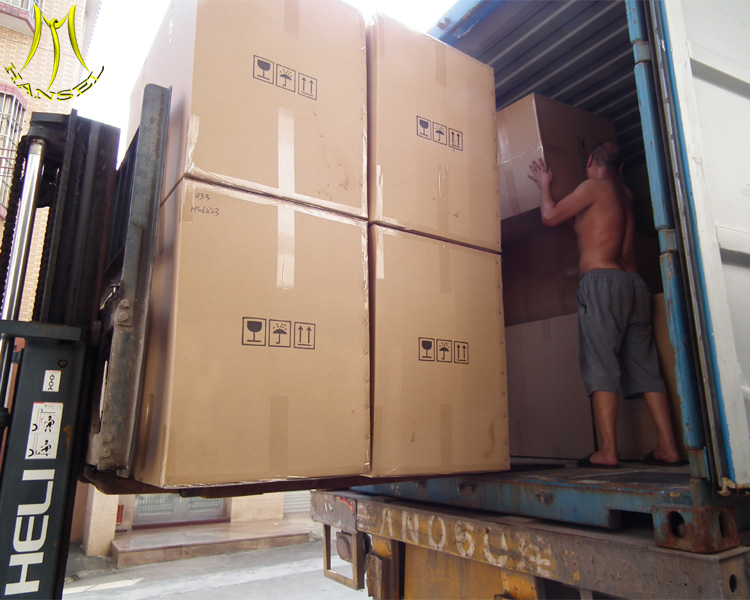 Hansel main products
Coin operated Rides: Plush motorized animal , Coin operated kiddie rides,carousel ride etc.
Inflatable : Inflatable slide, Inflatable bouncer , Inflatable combo, Inflatable castle, Inflatable fun city, Inflatable water park etc
Indoor Playground: Children Playground Equipment, Toddler soft play items etc
Kids Rides: Amusement battery motorbike , Bumper Car, Merry-go-round, Track train, Trackless train
Coin game machine : basketball game machine , Air hockey , video game machine etc.