Hansel plush motorized animals toy ride on animal and animal scooters
Price:
US$370.00/Piece
|
Get Latest Price
Product Detail
Hansel plush motorized animals toy ride on animal and animal scooters
Welcome to visit Hansel website for plush animal scooters
Hansel company manufacturer those electric animals, known as Animal Scooters since 2008. These portable amusement rides in coin operated, are sure to be a hit in your local market. They are the current trend for child amusement.Motorized animals are coin operated or time setting amusement rides that work with rechargeable batteries, can go forward and turn left and right with music. They are the current trend for child amusement. These electric motorized animals are mobile and allow children to ride the animal of their preference in parks, shopping centers, game centers, playgrounds and zoos at a safe and regulated speed of preference. Both children and adults may ride these animals at the same time. The delight in kids is absolutely guaranteed!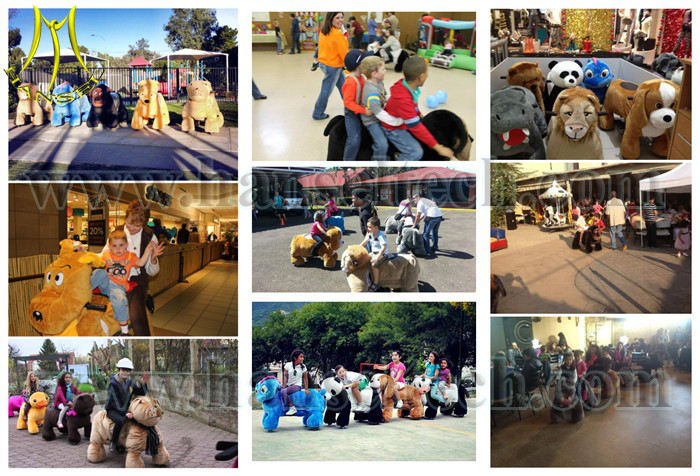 Details of Hansel plush animals scooter
Material: black paint steel tube frame (external diameter: 25mm,thickness:2mm ),fireproof animal design plush cover
Control box: time ,coins , volume ,music control,1-9 coins to play 1-19 minutes
Coin Counter: LED display, can not be cleared till 100000
Diameter range of token: 18-30mm.
Thickness range of token: 1.2-2.5mm.
Battery: chargeable, 12v/22A , charge 4-6 hours to play 6-8 hours
Charger: 12V/1.5A charger, one charger for one machine
Music: In SD card, can change music by yourself
Speed: 30-60m/min, the speed is related to the ground and weight of players. The more smooth of the ground, the faster of the rides.
Bearing Capacity: 150kgs (Parents can ride with kids)
Player: 1-88 years, fun for all people
Available place: shopping mall, amusement park, supermarket, indoor playground, game center, parties, events, show,school playground,family yard, etc
Certificate: CE,ASTM
Main market :

Hansel plush ride on animal toy are sold to over 100 countries. They are most popular in European and South American countries such as USA, Spain, France, UK, Colombia,Russian Federation, Chile, Venezuela, Netherlands, etc.
Two type animals for your choice:
Coin operated animals and non coin operated animals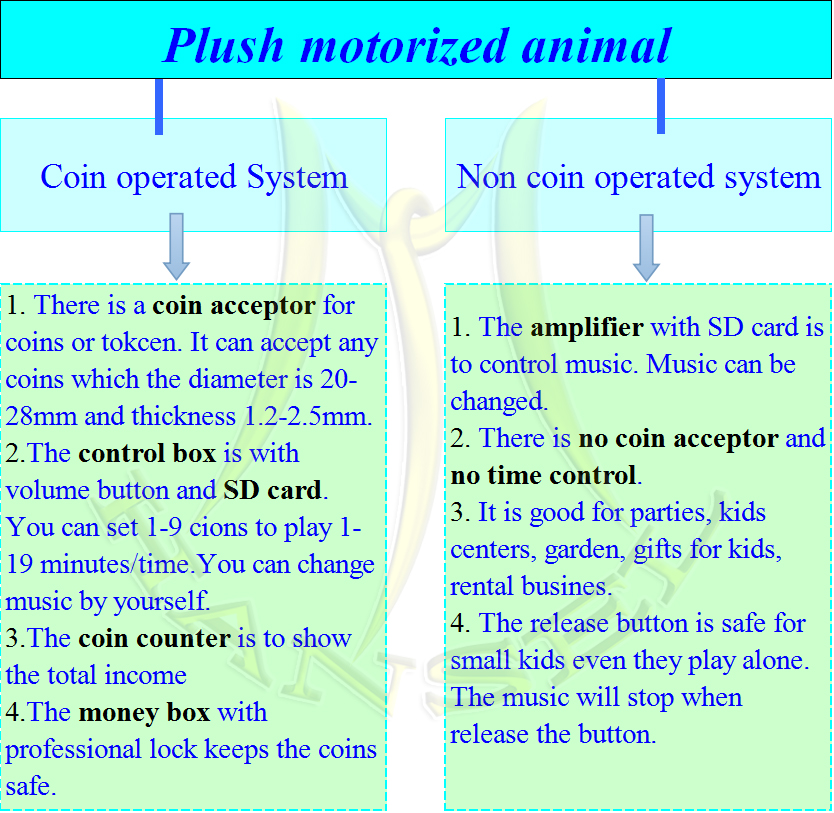 Customers feedback
Hansel plush motorized Animals are sold to over 100 different countries such Australia, USA,Brazil, UK, Italy, Colombia, Romania, Malaysia, Indonesia, Vietnam, etc. They are most popular in Australia and USA in 2016. 500pcs animal scooters are available each month.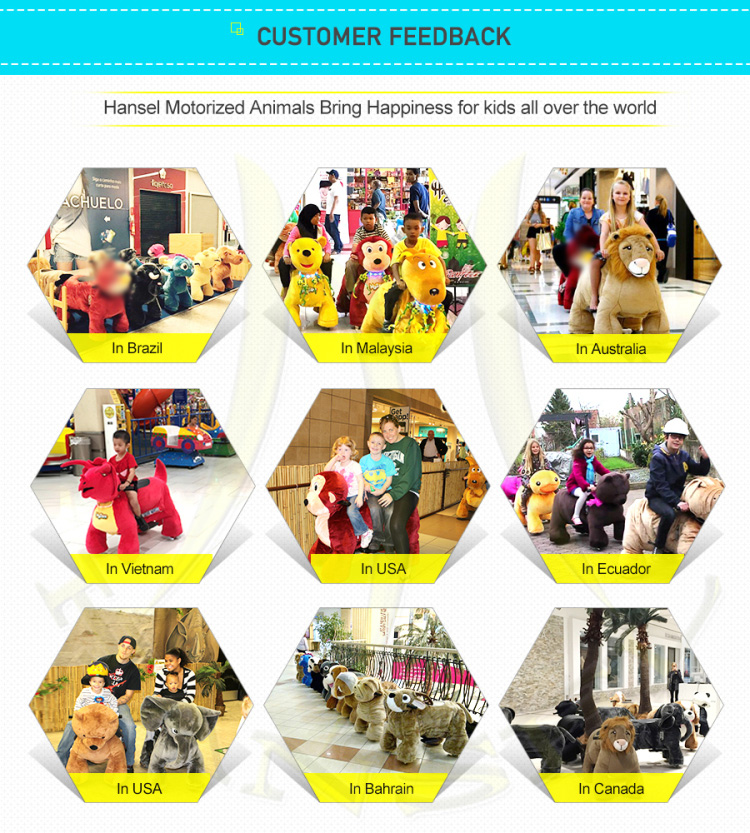 Deliever on time
Many clients told to us so far no Chinese supplier was able to keep the promised delivery time for the projects - 90% delay, 10% early--we assure there will no delay in our company. In order to shorten the deliver time, we have over 300 pieces metal frame and 200 pieces animal skin in stock each month.3 days for order within 20 pieces. 7 -10 days for order over 50 pieces.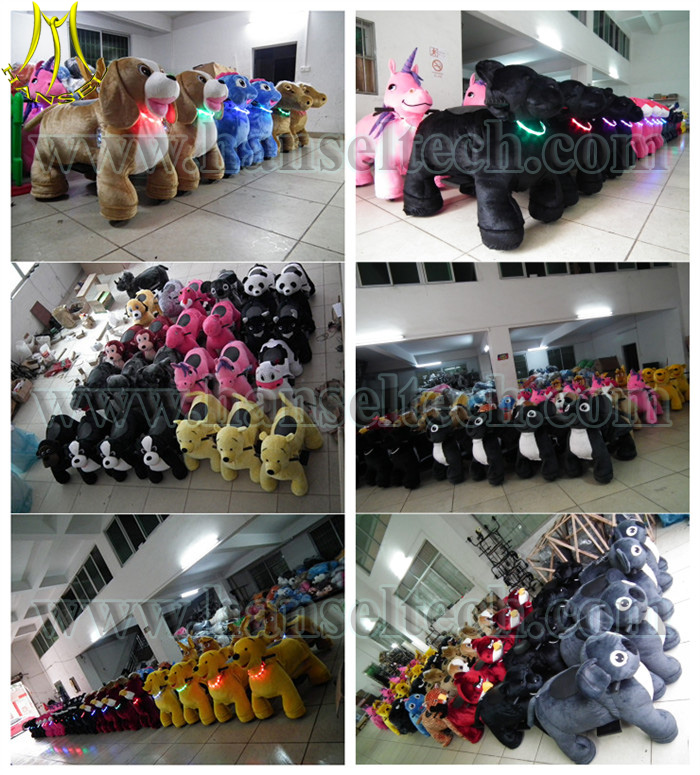 Questions clients always have asked:
1. Is the animal scooters business profitable?
Our animal are very hot in different people from kids to parents,it definitely would be great choice for your center!
2. How many models do you have for choice?
There are 40 different animal scooters in our Hansel factory for your choice, most popular is the unicorn, almost each clients choose the unicorn ride, or just tell us the model you kids or clients prefer, we can do it for you.
3. What is the quality?
We make sure the quality worth the price, many clients afraid the safe and reinforcement of the animals. Our animals cars have passed CE, fire proof plush skin with enough cotton, steel tube frame with double reinforce part.Pls contact us for more detailed information of our animals,you will know more about our quality.
4. How fast do the animals go?
Speed: 30-60m/min, the speed is related to the ground and weight of players. The more smooth of the ground, the faster of the rides.
5. Do I have to assemble the animal toy rides or do they come already assembled?
The animal toy rides will come with assembled.
6. How do you clean them when the get dirty and discolored?
The skin could be token off and washed,but only suggest use low-alkaline soap, shampoo,and other detergent to avoid fade too much
We use fire proof plush material for the skin,not easy to fade, lint-free,could use at least 3 years.
7. Do you sell the coins for the coin operated animals?
yes,we will send 50 coins for 1 animal,you can buy more coins in store if needed.
What do we supply?
Best Quality in Chinese market + Factory outlet Price + Prompt Delivery + Professional Technical support.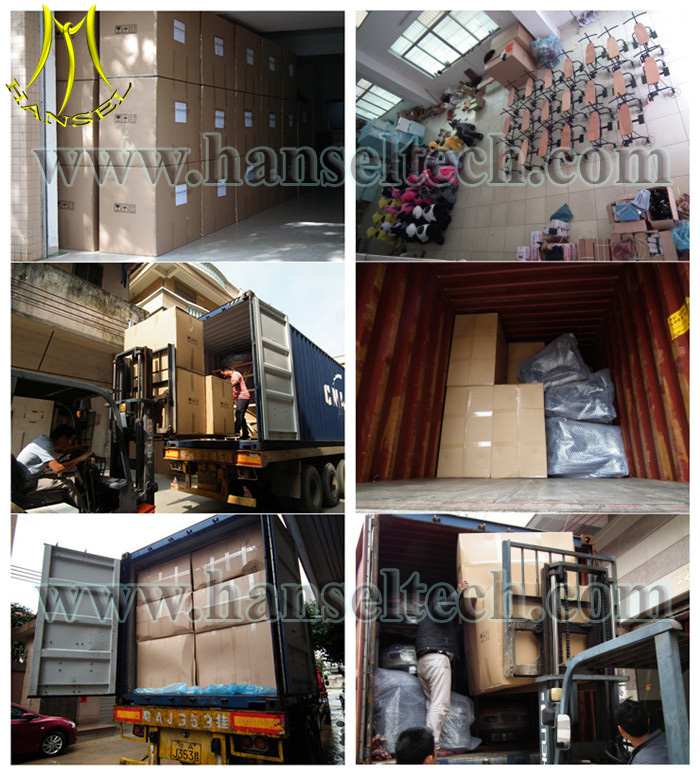 Thanks for browsing, welcome inquiry to know more details^-^