Hansel animal bike for kids and adults electric animal scooter shopping mall animal ride
Price:
US$370.00/Piece
|
Get Latest Price
Product Detail
Welcome to visit Hansel website for plush motorized animals.
Motorized animals are coin operated or time setting amusement rides that work with rechargeable batteries, can go forward and turn left and right with music. They are the current trend for child amusement. These electric motorized animals are mobile and allow children to ride the animal of their preference in parks, shopping centers, game centers, playgrounds and zoos at a safe and regulated speed of preference. Both children and adults may ride these animals at the same time. The delight in kids is absolutely guaranteed!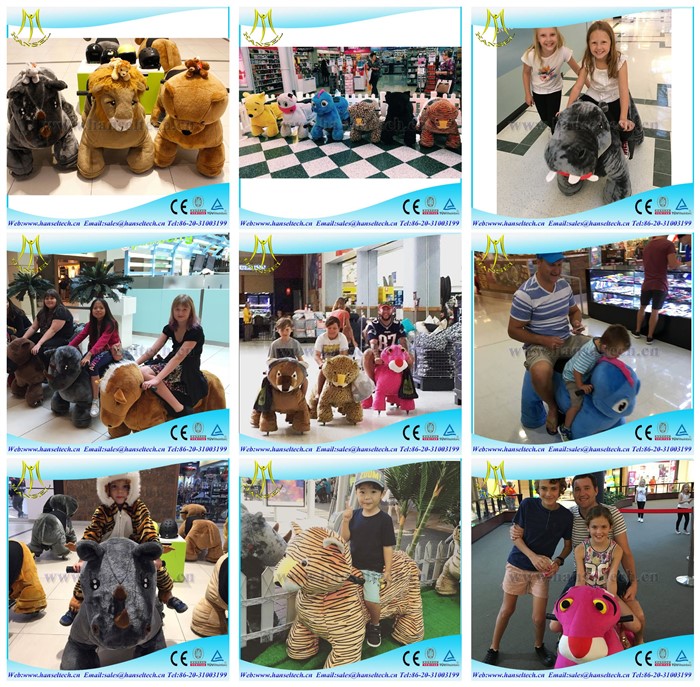 Details of Hansel motorized animals
Gross weight: 32kgs
Bearing Capacity: 150kgs (Parents can rides with kids)
Speed: 30-60m/min, the speed is related to the ground and weight of players. The more smooth of the ground, the faster of the rides.
Music: In SD card, can change music by yourself
PU Wheel:one 6 inch and three 4 inches wheel,stable and durable.
Motor: DC12V, 4.7A, 3000r/min
Control box: time ,coins , volume ,music control,1-9 coins to play 1-19 minutes
Coin Counter: LED display, can not be cleared till 100000
Battery: chargeable, 12v/24A , charge 4-6 hours to play 6-8 hours
Charger: 12V/1.5A charger, one charger for one machine
Player: 1-88 years, fun for all people
Package size: 119*66*89 CM
Load Capacity: 40 pcs/20GP, 80pcs/40GP, 90pcs/40HQ
Certificate: CE,ASTM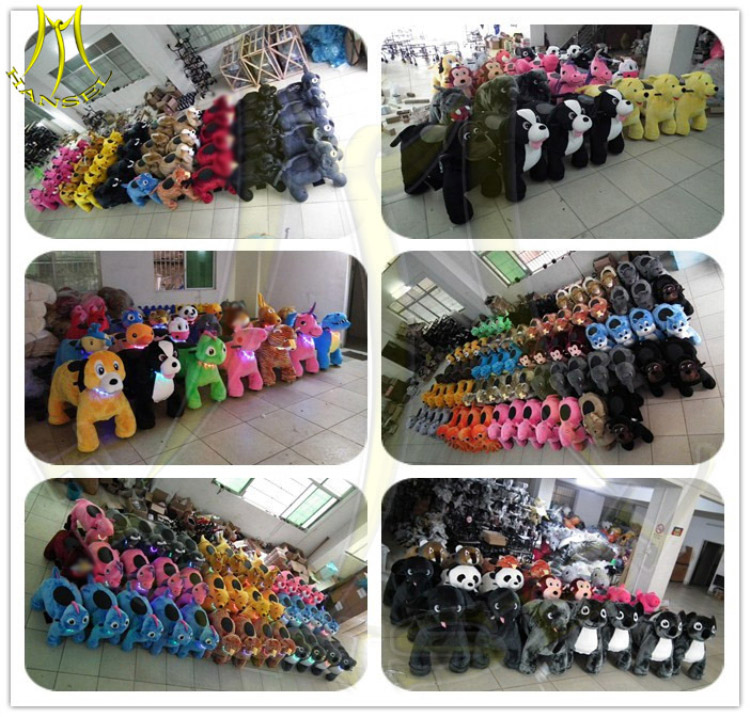 Questions you may ask about our motorized animals.
What kinds coins or tokens need for coin operated plush motorized animals?
We use CPU coin acceptor for motorized animals. It can accept any coins/tokens which the diameter is 18-30mm and thickness 1.2-2.5mm.
Do you sell spare parts also?
Definitely we also sell spare parts separately. Usually our clients buy some basic spare parts in stock. In that case, they can do maintain by themselves.
Which kind of music for Motorized animals?
There are English music in SD car for battery motorized animals. You can also change the music by yourself.
How old do you have to be to become a rider for those Animal?
Most children ages 3 and above can maneuver and steer the animals without help. Younger children would need extra supervision from an older child or ault.
How many hours the motorized animals can be used ? Is it easy to charge ?
The battery is 12v, 24ah, normally charge 4-6 hours to use 6-8 hours. when the speed slow down, the battery should be charged. Usually our customers charge the battery during night to keep it can work well in daytime.
Customer's feedback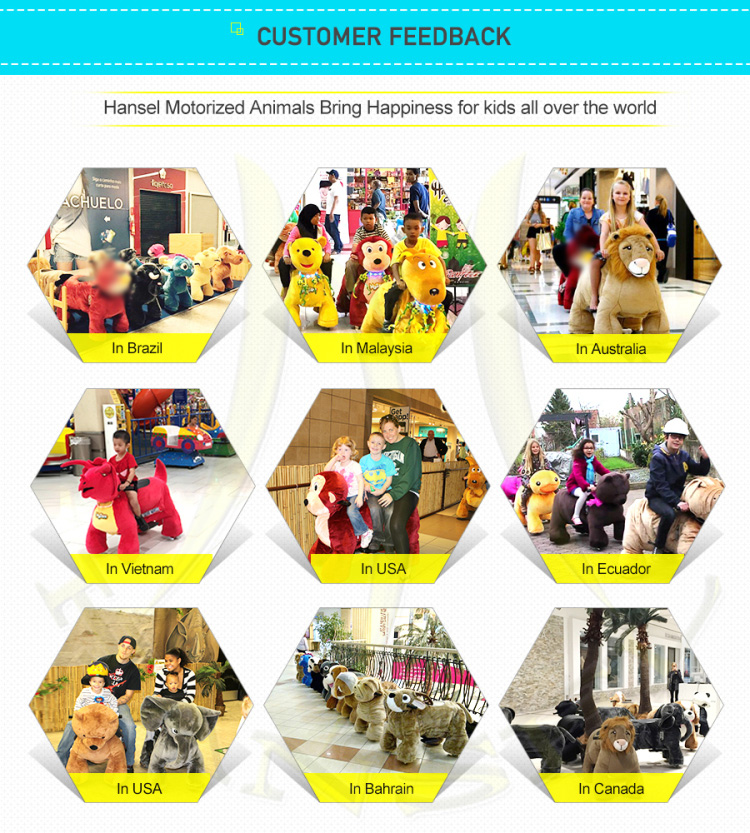 Advantages of Hansel plush motorized animals:
A. Safety is the first consideration for Hansel walking animals. Green painting of tube, fireproof plush and fine texture, soft, not wool, not ball, don't rub off
B.Simple and easy investment, fast and high profits.
C. Sales and technicians have been doing motorized animal business for 8 years.So we can always give you more professional support.
D. Free spare parts for maintenance, 24 hours on line service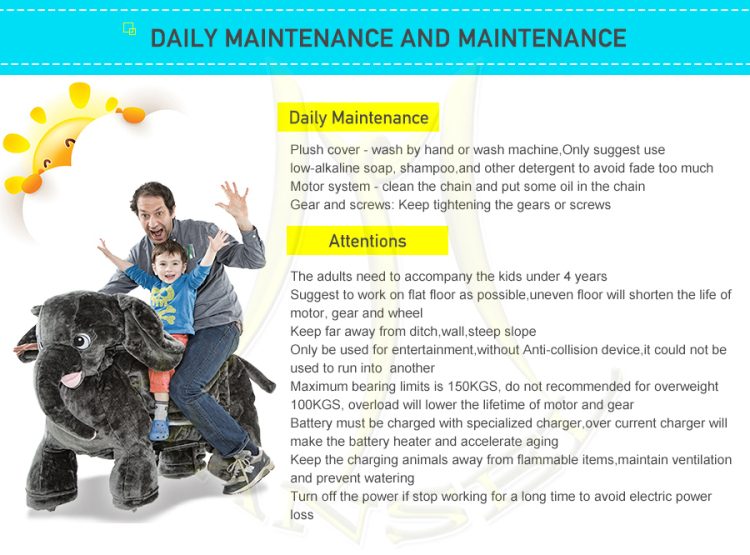 Suggested uses:
1.Malls: We provide a kids attraction and entertainment to your local mall or shopping center. We are keeping pace with world trends in delivering safe, quality rides that add value to their environment.
2. Kids Parties: This classic motorized plush electric animal scooter will make your next party a hit. Our electric animal scooters allow children and adults to have endless fun with their six to eight hours of battery life.
3. Conventions and promotions: Should your convention or promotion need an attraction for kids of all ages and a moment of peace for the parents, Hansel plush motorized animals are the best choice.
4. Corporate functions: Does your company organize family days and need a kid's activity? Our rides are a great alternative that will keep kids occupied for whole day.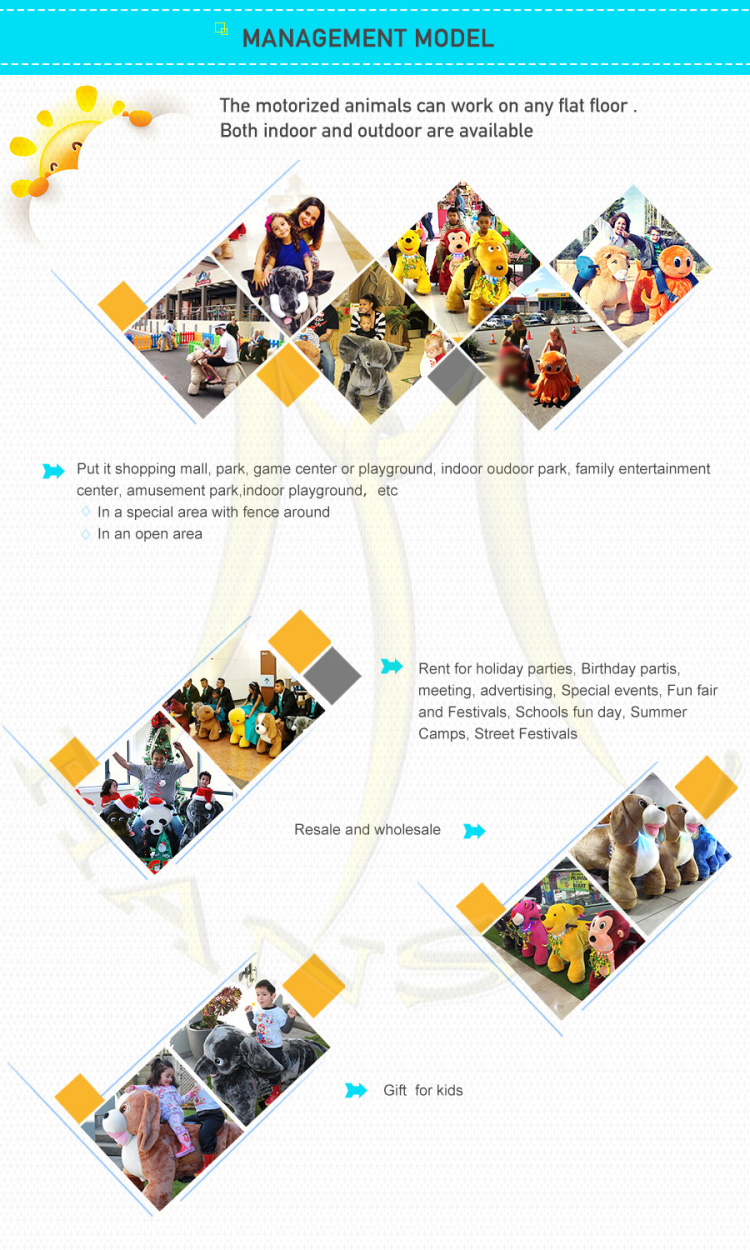 Plush motorized animals workshop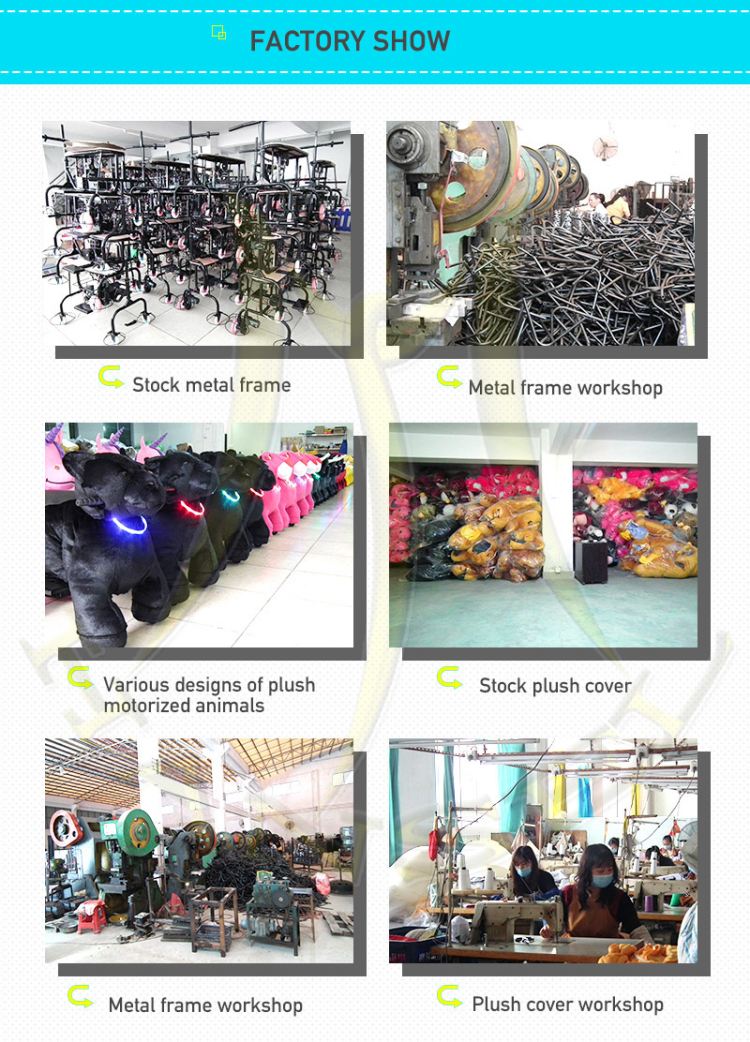 Package and delievery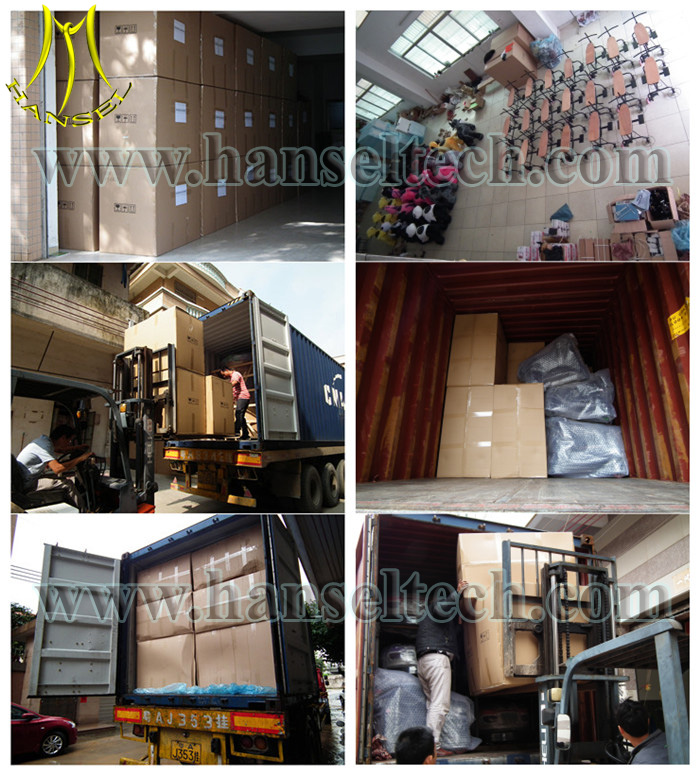 Details about the process of importing this motorized animals to your country.
Firstly please advise the quantity you need and sea port, we will make the proforma invoice for you to confirm, then you can arrange payment and choose models
Secondly we arrange production and shipment
Finally when goods arrive at your seaport, you ( or your custom agent) take the custom files to clear custom and pick up the goods.
Hansel CE and ASTM certificate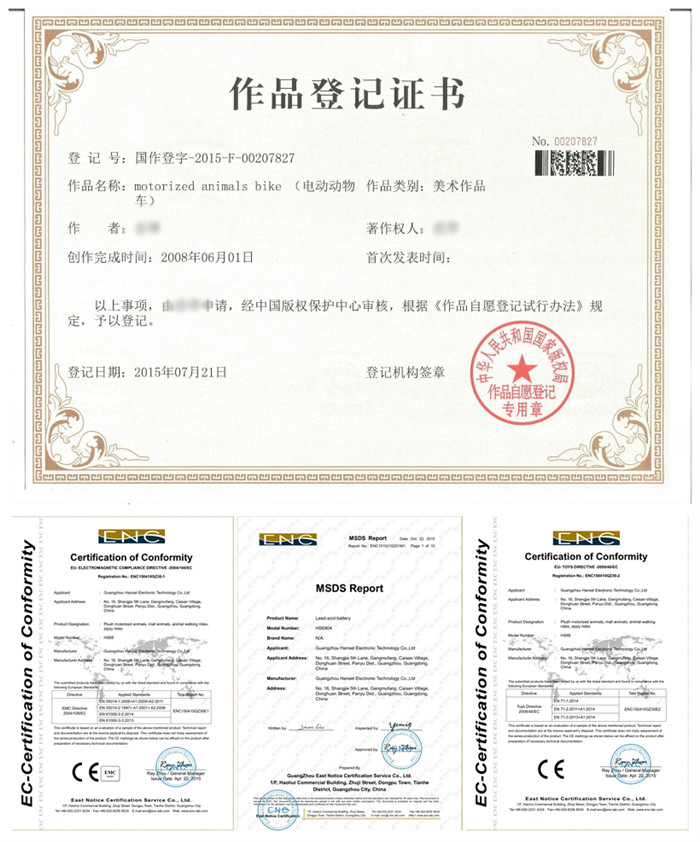 Guangzhou Hansel company are in the business of amusement/entertainment rides for children. We are a professional motorized animals manufacturer in Guangzhou, China. We lease electronic moving animals /plush motorized animals to people who are interested in owning and operating their own mall business.
If our explanation get your interest, just contact with us for inquiry . Thank you :-)